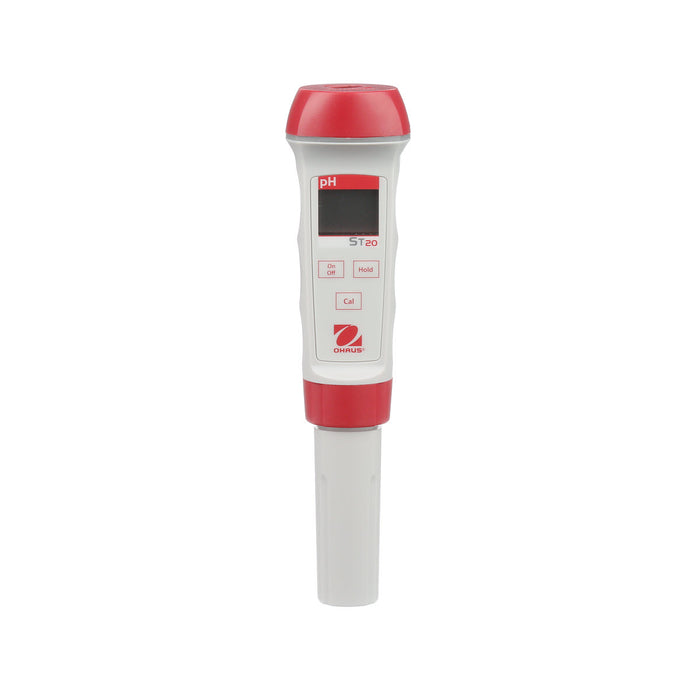 Ohaus Starter Pen Meters ST20T-A, 0.0 – 100.0 mg/L x ± 1.5%
Original price
$110.00
-
Original price
$110.00
Introducing the Ohaus Starter Pen Meters ST20T-A, the ultimate companion for all your water testing needs.
With its compact size and user-friendly interface, this small but mighty pen meter offers simplicity, speed, and efficiency like no other.

Built to withstand the most challenging conditions, the Ohaus Starter Pen Meters ST20T-A features a durable IP67 waterproof ABS housing. Whether you're working in rough or wet environments, this pen meter can handle it all without compromising its accuracy or performance. The protective sensor cap further ensures the longevity of the meter by shielding it from any potential damage.

Accidents happen, but with the included wrist strap, you can rest easy knowing that your pen meter is secure and won't be accidentally dropped or damaged during use. It's all about convenience and peace of mind with the Ohaus Starter Pen Meters ST20T-A.

Versatility is critical when it comes to water testing, and this pen meter delivers. It covers a wide range of applications, including pH, oxidation-reduction potential (ORP), conductivity, dissolved oxygen (DO), salinity, total dissolved solids (TDS), and temperature measurement. No matter what you need to measure, this pen meter has got you covered.

The liquid crystal display (LCD) with a secondary information line (on select models) provides clear and precise readings every time. Plus, with its easily replaceable electrodes and automatic shut-off feature, maintaining and conserving battery life has never been easier.

Whether you're a professional in a laboratory setting or a curious individual looking to test water quality at home, the Ohaus Starter Pen Meters ST20T-A is the perfect choice. Its compact design, reliable performance, and ease of use make it an indispensable tool for anyone in need of accurate water testing.

Experience the power of precision with the Ohaus Starter Pen Meters ST20T-A.
Order yours today and take control of your water testing needs.