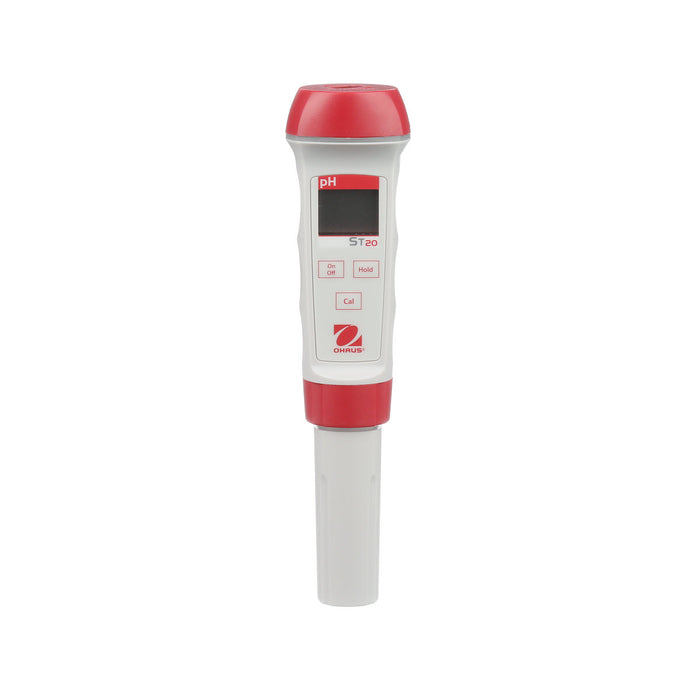 Ohaus Starter Pen Meters ST20, 0.0 – 14.00 pH x ± 0.05 pH
Original price
$99.00
-
Original price
$99.00
Introducing the Ohaus Starter Pen Meter ST20, the perfect companion for accurate and efficient pH measurements.
This small yet powerful pen meter offers a simple operation, making it an essential tool for any professional or hobbyist.

The Ohaus Starter Pen Meter ST20 is built to withstand the most challenging conditions with its durable IP67 waterproof ABS housing. You can confidently use it in rough and wet environments without worrying about damage or malfunction. Its protective sensor cap adds an extra layer of security, ensuring that your meter stays in pristine condition.

Accidental drops are a thing of the past, with the wrist strap included with the Ohaus Starter Pen Meter ST20. You can now carry it around with ease, knowing that it is always within reach and protected from any potential mishaps.

This versatile pen meter goes beyond pH measurements. With its wide range of applications, including oxidation-reduction potential (ORP), conductivity, dissolved oxygen (DO), salinity, total dissolved solids (TDS), and temperature measurement, you have all the tools you need in one device.

Featuring a liquid crystal display (LCD) with a secondary information line on select models, the Ohaus Starter Pen Meter ST20 provides clear and easy-to-read results. Say goodbye to guesswork and hello to precise measurements.

With four 1.5V batteries included, this pen meter is ready to use right out of the box—no need to worry about running out of power during crucial experiments or fieldwork.

The Ohaus Starter Pen Meter ST20 is designed with convenience in mind. Its easily replaceable electrodes ensure that you can continue using your meter for years to come. Plus, the automatic shut-off feature preserves battery life, extending the overall lifespan of your pen meter.

When it comes to portable scales and laboratory balances, Ohaus is a name you can trust. And with the Ohaus Starter Pen Meter ST20, you can experience their commitment to quality and accuracy firsthand. Don't settle for anything less when it comes to your pH measurements.
Choose the Ohaus Starter Pen Meter ST20 and take your work to the next level.