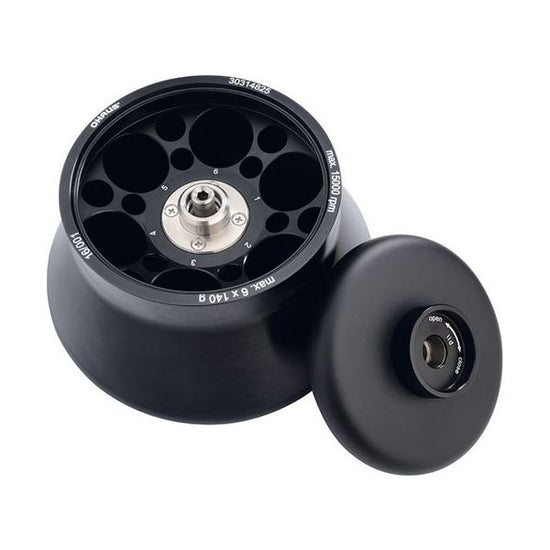 Ohaus R-A6x85/14MI Frontier Rotors Centrifuge, 6 x 85 ml, 20,984 g
Original price
$2,685.00
-
Original price
$2,685.00
Introducing the Ohaus R-A6x85/14MI Frontier Rotors Centrifuge, a powerful and reliable tool for all your sample preparation needs.
With a maximum capacity of 20,984 g and a readability of 6 x 85 ml, this centrifuge is designed to meet the demands of basic to high-performance applications.

Featuring a range of rotors, the Frontier Centrifuge allows you to customize your setup to match your specific requirements. Whether you need to process large volumes or delicate samples, a rotor is available to suit your needs. Say goodbye to one-size-fits-all solutions and embrace the flexibility and efficiency that the Frontier Centrifuge offers.

What sets the Frontier rotors apart is their exceptional usability. Installing or removing them is a breeze, thanks to the simple and intuitive design. Users can effortlessly access their samples without any hassle, saving valuable time and effort.

Durability is paramount regarding laboratory equipment, and the Frontier rotors deliver in that aspect. Constructed from high-quality materials such as aluminium or polypropylene, these rotors can withstand even the most demanding workflows. From autoclave sterilization to sub-zero temperatures, these rotors will endure, ensuring long-lasting performance.

Whether working in a research facility, medical lab, or industrial setting, the Ohaus R-A6x85/14MI Frontier Rotors Centrifuge is your go-to centrifugation accessory. Its easy installation design and robust construction make it the ideal choice for professionals who value efficiency without compromising on quality.

Invest in the Ohaus R-A6x85/14MI Frontier Rotors Centrifuge today and experience unmatched performance and reliability in your sample preparation processes.
Don't settle for anything less than excellence in your lab - choose Ohaus for all your centrifugation needs.