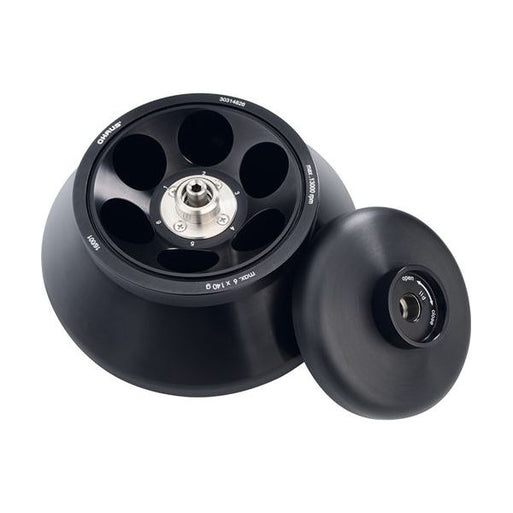 Ohaus R-A6x85/13MI Frontier Rotors Centrifuge, 6 x 85 ml, 21,726 g
Original price
$2,710.00
-
Original price
$2,710.00
Introducing the Ohaus R-A6x85/13MI Frontier Rotors Centrifuge, a robust and efficient solution for all your sample preparation needs.
With its maximum capacity of 10,016 g and readability of 6 x 250 ml, this centrifuge is designed to handle a wide range of applications, making it an indispensable tool in any laboratory or research facility.

One of the standout features of the Frontier Rotors Centrifuge is its versatility. With various rotors to choose from, you can easily match the capacity and flexibility required for your specific sample preparation requirements. Whether you need to process primary samples or tackle high-performance tasks, this centrifuge covers you.

When it comes to usability, the Frontier Rotors Centrifuge truly shines. Its innovative design allows for effortless installation and removal of the rotors in just a few quick and simple steps. This means that you can spend less time setting up and more time focusing on your research.

Not only is this centrifuge easy to use, but it is also built to last. The sturdy rotors are constructed of high-quality materials, ensuring durability even in demanding workflows. From autoclave sterilization to sub-zero temperatures, this centrifuge can withstand it all, providing reliable performance day in and day out.

Whether working in a laboratory, research facility, or any other environment that requires precise sample preparation, the Ohaus R-A6x85/13MI Frontier Rotors Centrifuge is the ideal choice. Its exceptional features, user-friendly design, and durability make it a valuable asset in achieving accurate and reliable results.

Invest in the Ohaus R-A6x85/13MI Frontier Rotors Centrifuge today and experience the convenience and efficiency it brings to your sample preparation process.
Don't settle for anything less than the best regarding your research – choose Ohaus for unmatched quality and performance.