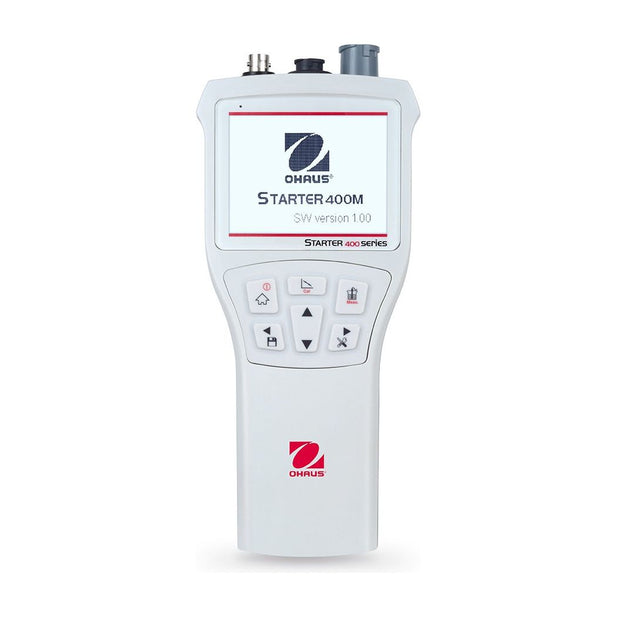 Ohaus Starter PH Portable ST400M-G, 2.00 – 16.00 pH
Original price
$1,165.00
-
Original price
$1,165.00
Introducing the Ohaus Starter PH Portable ST400M-G, the ultimate companion for accurate and efficient pH testing.
This portable scale, also known as a laboratory balance, is designed to meet the needs of professionals who require precise measurements in various field environments. With its exceptional features and durable construction, the ST400M-G is a reliable choice for any pH-related task.

Built with an IP67 waterproof housing, rubber cover, and IP67 probes, the ST400M-G can withstand even the harshest conditions. Whether you're working in a laboratory or conducting field research, this scale is built to endure prolonged use without compromising accuracy.

Say goodbye to frequent battery changes. The rechargeable lithium battery of the ST400M-G provides an impressive 40 hours of uninterrupted use and can endure more than 300 charge cycles. This means you can focus on your work without worrying about running out of power.

Operating the ST400M-G is a breeze thanks to its intuitive software. The user-friendly interface guides you through each operation, ensuring accurate results every time. All the necessary information, such as electrode condition and test parameters, is displayed clearly on the large LCD screen.

Versatility is another standout feature of the ST400M-G. It can perform not only pH testing but also conductivity, TDS, salinity, and resistivity testing. This makes it a valuable tool for professionals across various industries.

The ST400M-G is designed with convenience in mind. It features a built-in micro-USB port for accessible communication and data transfer. With its data storage capacity of up to 1000 items, you can keep track of your measurements effortlessly.

Invest in the Ohaus Starter PH Portable ST400M-G and experience unmatched precision and durability. Whether you're a scientist, researcher, or laboratory technician, this portable scale will exceed your expectations and deliver accurate results every time.
Trust in Ohaus's commitment to quality and innovation to elevate your pH testing experience.