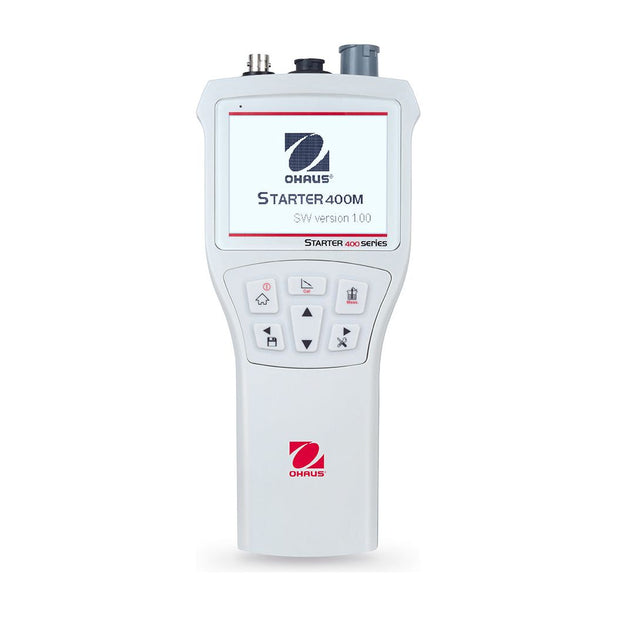 Ohaus Starter PH Portable ST400M-B, 2.00 – 16.00 pH
Original price
$915.00
-
Original price
$915.00
Introducing the Ohaus Starter PH Portable ST400M-B, the ultimate companion for accurate and reliable pH testing.
With its robust construction and advanced features, this portable device is designed to excel in any field environment.

The ST400M-B boasts an IP67 waterproof housing, along with a durable rubber cover and IP67 probes. This means that it can withstand even the harshest conditions, making it perfect for prolonged use in any outdoor setting. Whether you're conducting pH, conductivity, TDS, salinity, or resistivity testing, this versatile instrument has got you covered.

Say goodbye to constantly changing batteries! The ST400M-B comes equipped with a rechargeable lithium battery that provides an impressive 40 hours of uninterrupted use. With over 300 charge cycles, you can rely on this device for long-lasting performance without the hassle of frequent battery replacements.

Operating the ST400M-B is a breeze, thanks to its intuitive software. The user-friendly interface guides you through each step of the testing process. All essential information, including electrode conditions and test results, is displayed clearly on the large LCD screen. You'll have all the data you need at your fingertips for accurate and efficient analysis.

Need to store your test results? No problem! The ST400M-B has a data storage capacity of up to 1000 items. Now, you can easily keep track of your measurements and refer back to them whenever necessary.

Designed with convenience in mind, this portable pH testing device also features a built-in micro-USB port for seamless communication. Transfer your data effortlessly to other devices or connect to a computer for further analysis.

Incorporating cutting-edge technology and exceptional durability, the Ohaus Starter PH Portable ST400M-B is the ideal choice for professionals in need of precise and reliable pH testing. Please don't settle for anything less than perfection when it comes to your laboratory balance needs.
Choose Ohaus and experience unmatched accuracy and performance.