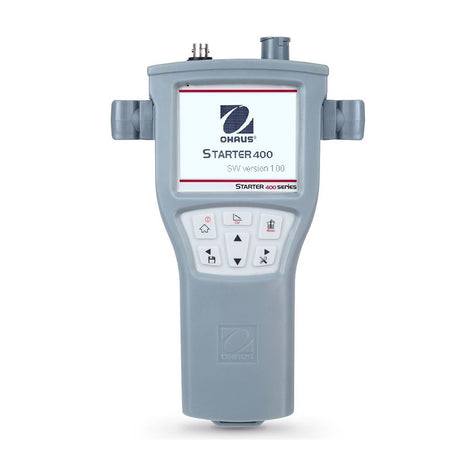 Ohaus Starter PH Portable ST400-F, 2.00 – 16.00 pH
Original price
$690.00
-
Original price
$690.00
Introducing the Ohaus Starter PH Portable ST400-F, the ultimate companion for accurate pH measurements in any field environment.
With its rugged construction and advanced features, this portable pH meter is a must-have for professionals in various industries.

Built with an IP67 waterproof housing, rubber cover, and IP67 probes, the ST400-F is designed to withstand even the harshest conditions. Whether you're conducting experiments in the lab or working outdoors, this pH meter ensures reliable performance throughout prolonged use.

Say goodbye to frequent battery changes! The ST400-F is equipped with a rechargeable lithium battery that provides an impressive 40 hours of uninterrupted use. With over 300 charge cycles, you can rely on this pH meter to power through your tasks without any interruptions.

Navigating through tests has always been challenging, thanks to the ST400-F's intuitive software. The large LCD provides clear and concise information, guiding you through each step of the operation. From electrode condition to test results, all the essential details are conveniently displayed for easy reference.

The versatility of the ST400-F extends beyond pH measurements. This portable meter also allows for Oxidation-Reduction Potential (ORP) measurements, making it a valuable tool for various applications. Its backlit liquid crystal display ensures visibility even in low-light conditions, ensuring accurate readings every time.

Designed with convenience in mind, the ST400-F features a built-in micro-USB port for accessible communication and data transfer. You can easily connect it to your computer or other devices to store and analyze your results effortlessly.

With its compact size and durable construction, the ST400-F is perfect for professionals on the go. Whether you're a scientist, researcher, or quality control specialist, this portable pH meter provides accurate and reliable measurements wherever you need them.

Experience the freedom of precise pH measurements with the Ohaus Starter PH Portable ST400-F.
Get yours today and elevate your scientific endeavors to new heights.