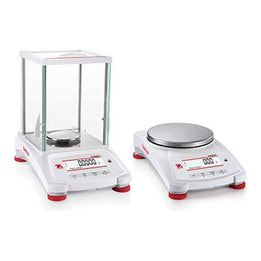 Ohaus Pioneer Semi-Micro PX225D, Stainless Steel, 82g/220g x 0.01mg/0.1mg
Original price
$6,080.00
-
Original price
$6,080.00
Introducing the Ohaus Pioneer Semi-Micro PX225D, Stainless Steel, a precision weighing instrument designed to meet the demands of laboratory, industrial, and education settings.
With its exceptional accuracy and repeatability, this balance ensures reliable results for essential weighing applications.


The PX225D offers a maximum capacity of 82g/220g with a readability of 0.01mg/0.1mg. This means you can weigh even the most miniature samples with utmost precision. The stainless steel weighing pan and cast metal lower housing and sub-pan guarantee durability and long-term usage.

Equipped with a backlit LCD, the PX225D provides clear visibility even in low-light conditions. In addition, it features a second-line display that offers extra information and guidance through a dot matrix format. This innovative design allows for straightforward interpretation of data and enhances user experience.

Communication is made effortless with the built-in RS232 and USB device connectivity. This enables seamless data transfer to external devices such as computers or printers. Say goodbye to manual recording and tedious calculations – let the PX225D streamline your workflow.

The PX225D has a range of user-friendly features that make operation a breeze. You have complete control over your weighing environment with user-selectable environmental filters and brightness settings. The auto-tare function saves time by automatically subtracting the weight of containers, ensuring accurate measurements every time.

Safety and security are paramount in any laboratory setting. That's why the PX225D is equipped with a calibration lock, in-use cover to prevent unauthorized adjustments, and a security bracket for added stability during operation.

Invest in the Ohaus Pioneer Semi-Micro PX225D, Stainless Steel, and experience the perfect blend of economy and high performance. Designed to surpass your expectations, this analytical balance will revolutionize your weighing process with its precision, durability, and user-friendly features.
Trust in Ohaus, a leader in the industry, and take your weighing to new heights of accuracy and efficiency.