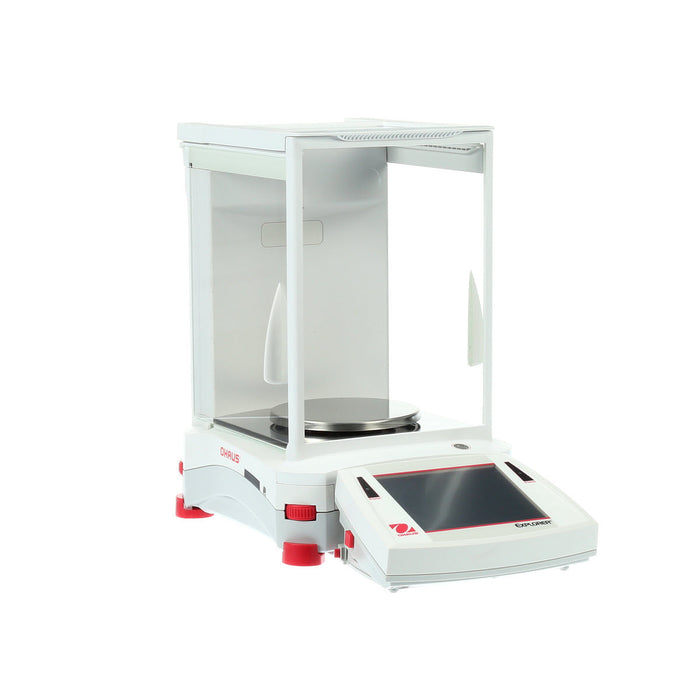 Ohaus Explorer Precision NTEP EX223N/E, Stainless Steel, 220g x 0.001 g
Original price
$3,214.00
-
Original price
$3,214.00
Introducing the Ohaus Explorer Precision NTEP EX223N/E Stainless Steel Balance, a top-of-the-line weighing instrument designed for precision and reliability.
With its impressive features and unmatched accuracy, this balance is necessary for laboratory and industrial environments.


At the heart of the Explorer Precision balance lies a meticulously crafted weighing cell machined from a solid metal block. This ensures exceptional durability and accuracy, allowing for precise measurements every time. Whether you're conducting experiments or working with industrial materials, this balance will deliver consistent and reliable results.

One standout feature of the Explorer Precision NTEP EX223N/E is its detachable terminal. Equipped with a large color touchscreen, this terminal provides an intuitive user interface that makes operating the balance a breeze. The programmable IR sensors allow touchless operation, ensuring hygienic and convenient weighing experiences.

The frameless draft shield adds another convenience layer, providing unobstructed access to the weighing pan. This makes it easy to handle samples of various sizes without any hassle. The stainless steel pan also ensures easy cleaning and maintenance, making this balance suitable for even the most demanding environments.

With four-level user management and password protection, the Explorer Precision NTEP EX223N/E offers enhanced security features. The non-editable system log provides an audit trail, guaranteeing the integrity of your data. This makes it an ideal choice for regulated applications where data accuracy and traceability are crucial.

The Ohaus Explorer Precision NTEP EX223N/E also boasts various configuration options to suit your specific needs. From selectable environmental filters to user-definable projects and user IDs, this balance can be tailored to meet your requirements precisely. The included AC adapter ensures continuous operation without worrying about battery life.

Experience unparalleled accuracy and convenience with the Ohaus Explorer Precision NTEP EX223N/E Stainless Steel Balance. Trust in its precision-machined weighing cell and advanced features to deliver the utmost accuracy in your laboratory or industrial setting.
Choose Ohaus for excellence in precision scales and enjoy the freedom of reliable measurements.