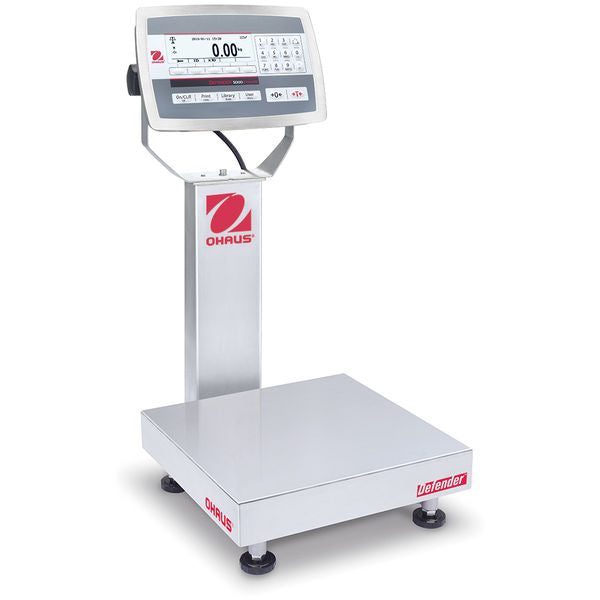 Ohaus Defender Bench Scales D52XW12RQR1, Legal for Trade, 25 lbs x 0.005 lb
Original price
$2,021.00
-
Original price
$2,021.00
Introducing the Ohaus Defender Bench Scale D52XW12RQR1, a reliable and user-friendly model designed to simplify your weighing tasks.
With its impressive features and durable construction, this scale is perfect for various applications.

Featuring an easy-to-use keypad and a large backlit display, the Defender Bench Scale provides a user-friendly experience. The plain text on-screen prompts guide you through the operation, ensuring accuracy and efficiency every time.

Built to last, the scale boasts a stainless steel platform that can withstand heavy use. The sand-gray powder-coated steel frame and aluminum load cell add to its durability, making it suitable for demanding environments. The Defender Bench Scale meets NTEP/Measurement Canada or OIML/EC type approvals, depending on your region.

One of the standout features of this scale is its versatility. It offers common industrial modes such as weighing, parts counting, percent weighing, check weighing, and dynamic weighing with Display Hold functionality. Additionally, it supports a 50,000-item library and allows for easy data management with 1,000 user profiles. Including GMP/GLP with time/date functionality ensures result traceability.

The backlit liquid crystal display (LCD) with 256 x 80 pixels provides clear visibility even in dimly lit environments. The scale operates using an internal power supply with a power cord included. Alternatively, you can use a rechargeable battery (sold separately as an accessory) for portable use.

For seamless communication, the Defender Bench Scale is equipped with accessible access communication ports including RS232 and Micro SD slot. It also offers additional communication options such as a second RS232/RS485/USD device, Ethernet, and WiFi/Bluetooth connectivity (accessories sold separately). The scale also supports GLP/GMP data output with real-time clock functionality.

The construction of the scale is both sturdy and practical. You have the option of choosing between an ABS plastic or stainless steel indicator, depending on your preference. A sand-gray powder-coated steel frame and an aluminum load cell complement the 304-grade stainless steel platform. Non-slip adjustable rubber feet ensure stability and accuracy.

With its user-configurable resolution of up to dual range 15,000d/3,000e (25,000d/5,000d for NTEP), the Defender Bench Scale offers precise measurements. It also features 150% overload capacity protection, checkweighing symbols with the selectable operation and audible signal settings, and a menu lock switch for added convenience.

Other notable features include multiple selectable operating languages, selectable environmental and auto-print settings, stability indicators, overload/underload indicators, selectable adjust contrast settings, auto-dim display, auto-off, brightness adjustment, screensaver, and auto tare functionality.

The Ohaus Defender Bench Scale D52XW12RQR1 is the perfect choice for those who demand accuracy, durability, and ease of use in their weighing tasks. Whether in a laboratory setting or needing a portable scale for your on-the-go needs, this scale delivers exceptional performance.
Trust in its precision and reliability to meet all your weighing requirements.