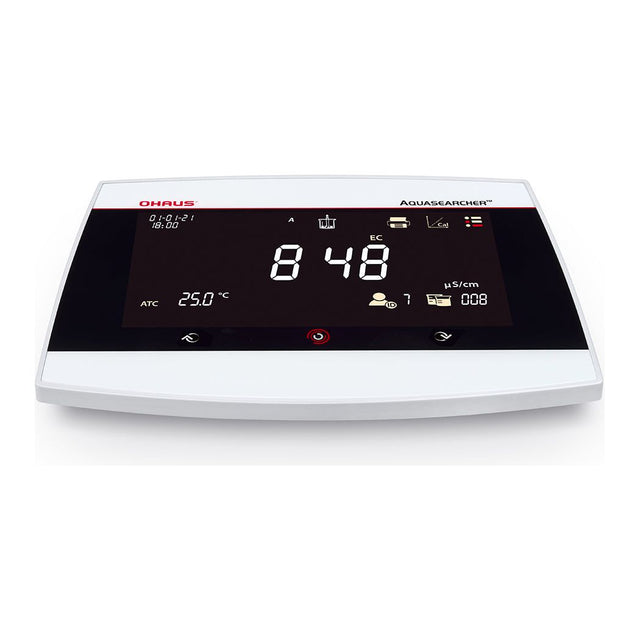 Ohaus AQUASEARCHER Conductivity Bench Meter AB33EC-B, ± 0.5 % Reading ± 2 LSD
Original price
$595.00
-
Original price
$595.00
Introducing the Ohaus AQUASEARCHER Conductivity Bench Meter AB33EC-B, the ultimate solution for accurate and reliable conductivity measurements in laboratory settings.
With its advanced features and user-friendly design, this bench meter is a must-have for any scientist or researcher.

The AB33EC-B offers selectable reading reference temperatures of 20 or 25 ºC, allowing you to customize your measurements according to your specific needs. With linear curve options and automatic temperature compensation, you can trust that your results will be precise and consistent every time.

One of the standout features of the AB33EC-B is its versatility. It comes equipped with auto-stop and auto temperature compensation, ensuring hassle-free operation. Additionally, its adjustable TDS factor and compatibility with both 2- and 4-cell conductivity probes make it suitable for a wide range of laboratory applications.

Efficiency and convenience are at the core of the AB33EC-B's design. It boasts a generous 1000-item memory for storing conductivity measurements and calibration trails, allowing you to document and track your data quickly. The standard RS232 and USB interface enables seamless connectivity to external devices, providing you with even more flexibility in managing your data.

Featuring a 6.5" segment & dot matrix LCD with backlight, the AB33EC-B ensures clear visibility of your readings even in low-light conditions. Its capacitive touch operation and ABS top housing provide a comfortable and durable user experience. The standalone electrode holder adds further convenience by keeping your electrodes securely in place during measurements.

With i-Steward technology and calibration due alarm, the AB33EC-B takes the guesswork out of maintaining accuracy over time. You can trust that your measurements will always be reliable and consistent.

In conclusion, if you're looking for a high-performance conductivity bench meter that combines accuracy, versatility, and ease of use, look no further than the Ohaus AQUASEARCHER Conductivity Bench Meter AB33EC-B.
Take your laboratory measurements to the next level with this exceptional instrument.