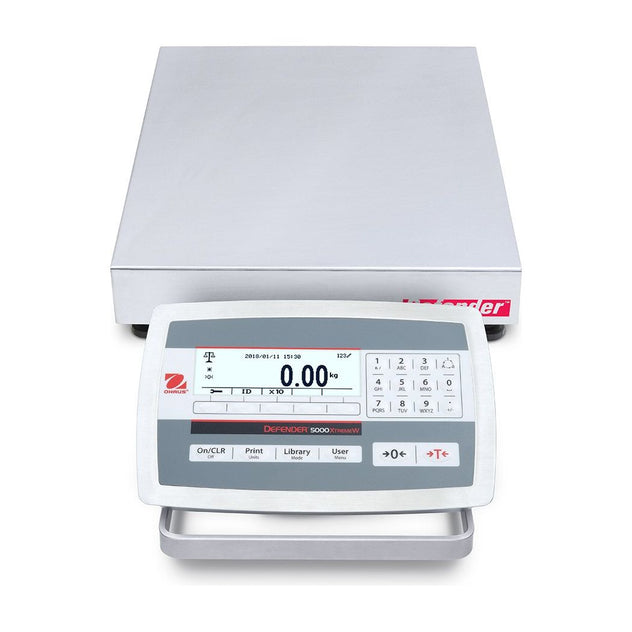 Ohaus 12"x12" Bench Scale, D52XW25RQR5 50lb x 25kg
Original price
$1,920.00
-
Original price
$1,920.00
Introducing the Ohaus 12"x12" Bench Scale, D52XW25RQR5 50lb x 25kg - the perfect blend of user-friendly design and durable construction.
This model, with its easy-to-use keypad and large backlit display, ensures effortless operation even in low-light conditions. With plain text on-screen prompts guiding you every step of the way, weighing tasks has never been easier.
Built to last, this bench scale features a stainless steel platform that can withstand heavy loads, a sand grey powder-coated steel frame for added durability, and an aluminium load cell for reliable performance. The Defender model meets NTEP/Measurement Canada or OIML/EC type approvals (depending on your region), giving you peace of mind knowing it meets industry standards.
Versatility is at its core with this bench scale. It comes equipped with standard industrial modes such as weighing, parts counting, per cent weighing, check to consider, and dynamic weighing with display hold. Plus, it boasts a 50,000-item library and supports up to 1,000 user profiles for seamless data management. Including GMP/GLP with time/date functionality allows for accurate result traceability.
The backlit liquid crystal display (LCD) with 256 x 80 pixels ensures clear visibility of measurements at all times. For power options, you can rely on the internal power supply with the included power cord or opt for a rechargeable battery (sold separately as an accessory).
Communication is made easy with the Ohaus D52XW25RQR5. It features convenient access communication ports, including RS232 and Micro SD slot (included), a second RS232/RS485/USD device port, Ethernet and WiFi/Bluetooth capabilities (sold separately as accessories). Additionally, you can expect GLP/GMP data output with real-time clock functionality for streamlined data management.
Crafted with both functionality and user experience in mind, this bench scale features an ABS plastic or stainless steel indicator, a 304-grade stainless steel platform with a sand grey powder-coated steel frame, and an aluminium load cell. The non-slip adjustable rubber feet ensure stability during operation.
With its user-configurable resolution and selectable operating settings, including checkweighing symbols with audible signal settings, a menu lock switch, and multiple language options, the Ohaus 12"x12" Bench Scale caters to your specific preferences. Other design features include selectable environmental and auto-print settings, stability indicators, overload/underload indicators, adjustable contrast settings, auto-dim display, auto-off, brightness adjustment, screensaver, and auto-tare functionality.
Invest in the Ohaus 12"x12" Bench Scale for accuracy, durability, and user-friendly operation.
Whether you're weighing items in a laboratory, industrial setting, or any other application that demands precise measurements, this portable scale from Liberty Scales is the ultimate choice.