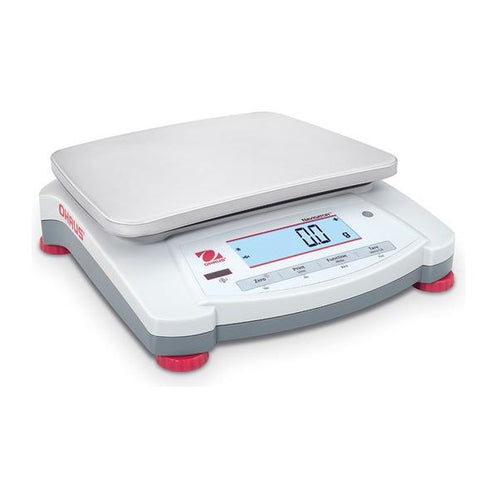 Ohaus 6.9"x9.1" NVT Series Portable Balances NVT2201 2200 g x 0.1 g
Original price
$491.00
-
Original price
$491.00
Introducing the Ohaus 6.9"x 9.1" NVT Series Portable Balances NVT2201 2200 g x 0.1 g, the perfect companion for all your weighing needs.
With its advanced technology and competitive price point, Navigator offers essential weighing applications to enhance productivity and efficiency.

Featuring one-second stabilization, this portable balance ensures fast and accurate weighing results, allowing you to save valuable time and streamline your operations. Whether in a laboratory or a commercial setting, the Navigator's precise measurements will meet your requirements.

Worried about overload? Fear not! The overload protection system of this balance can withstand loads up to four times its rated capacity, ensuring robust durability and longevity. You can rely on the Navigator to handle heavy-duty tasks with ease.

This versatile balance caters to various applications, including weighing, parts counting, percent weighing, and checkweighing. Its liquid crystal display (LCD) with backlight provides clear visibility even in dimly lit environments, so you can effortlessly read the measurements.

The Navigator offers flexible operation options with an included AC adapter or the opportunity to use 4 C batteries (not included) for on-the-go convenience. Communication is made easy with the availability of RS232, USB, or Ethernet as accessories.

Crafted with a durable ABS housing and a stainless steel pan, this balance is built to withstand daily use. Its transportation lock ensures safe and secure handling during travel. The slip-resistant and adjustable feet guarantee stability on any surface, while the levelling bubble provides accurate readings.

Designed with user convenience in mind, the Navigator features a menu and calibration lock switch for easy operation. It also comes equipped with mechanical and software overload/underload protection, stability indicator, low battery indicator, auto shut-off, user-selectable print options, and user-selectable communication settings.

In conclusion, the Ohaus 6.9"x9.1" NVT Series Portable Balances NVT2201 2200 g x 0.1 g is a reliable and efficient weighing solution. With its advanced technology, durable construction, and user-friendly features, this balance is an excellent choice for laboratories, commercial environments, and beyond.
Don't compromise on accuracy and efficiency - choose the Navigator for all your weighing needs.