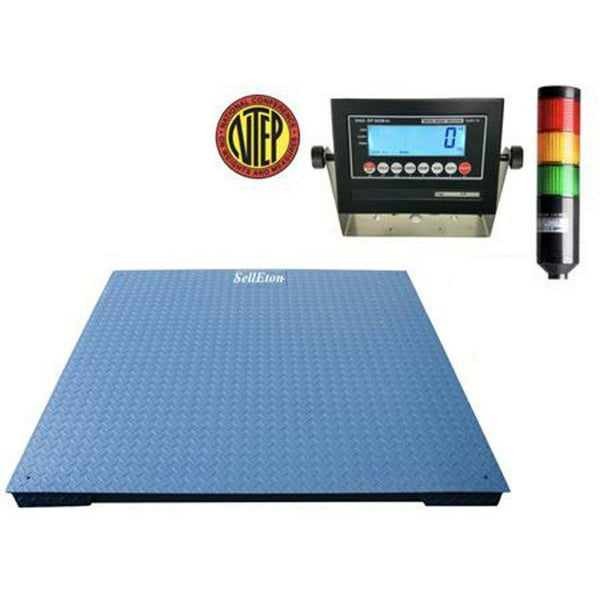 Liberty LS-800-0-5V NTEP 48" x 48" Floor scale Check weigher / Weight control / Stag light system
Original price
$1,978.99
-
Original price
$1,978.99
Liberty Integrates Check weigher / Weight control / Stag light system it's popular Industrial LS-800 Floor scales!
Such a system is used to notify operators that a certain weight has been reached, by one of 3 different colored lights. Green, Yellow & red. 
You could choose up to 3 different Notification points from 1 lb to 10,000 lbs. 
● The indicator can output 4 signals, which when connected to outside equipment, can perform an automatic control function and an upper/lower limit alarm function. for more information visit the download page on the homepage. 
Indicator Features
LS-7510 NTEP indicator with LED or LCD display
1" Tall backlit display
Optional Rechargeable battery (up to 100 hrs)
Metal casing
AC adapter included 
Multiple weighing units: (lb/kg/g/oz/lb:oz)
Gross/Tare/Pre-Set Tare/Zero
Multiple Hold functions
Count weighing
Accumulation weighing
Overload / Underload alarm
Splash-proof  keyboard and display
Connects to a remote display and printer
NTEP approved for 5,000 divisions
Displays up to 50,000 graduations
Full Duplex RS-232 Serial Port
Stainless steel indicator for outdoor use available upon request
Liberty's Shipping policy: 
FREE SHIPPING to a business address in the US 48 continental States. 
$100 Extra shipping cost to residential. 
$50  Extra for lift gate services. So if you don't have a forklift or loading dock, you will need this service. 
Hawaii, Alaska & Puerto Rico customers please call for a shipping quote. 
Thank you, 
Liberty