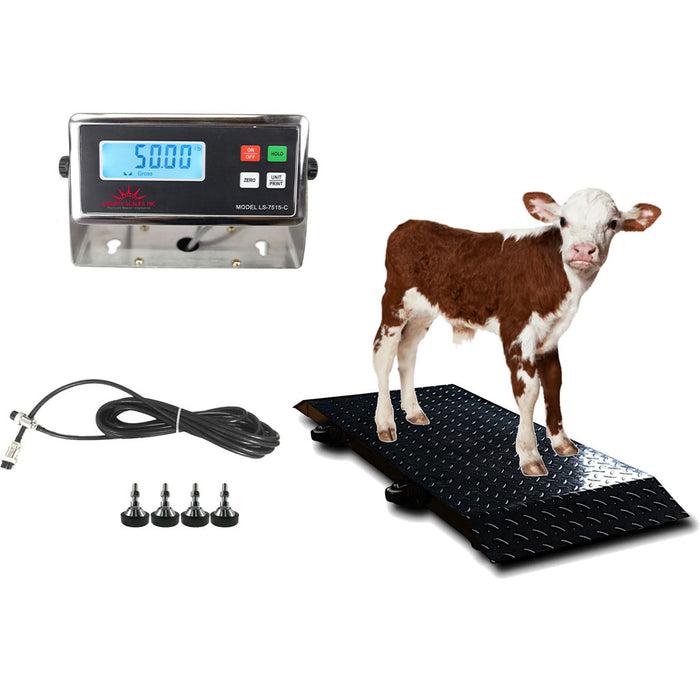 LS-920-2k Industrial portable floor Scale for Small Animal up to 2000 lbs
Original price
$499.00
-
Original price
$999.00
If you need a high-quality scale to accurately measure the weight of smaller animals, look at the LS-920-2k industrial floor scale from Liberty Scales. This rugged and reliable scale is designed specifically for weighing animals such as goats, sheep, pigs, and other small livestock.
With a weight capacity of up to 2000 lbs and an accuracy of .5 lb, the LS-920-2k delivers precise measurements every time. The metal surface of the scale measures 50" by 20" in width, providing ample space for even the largest animals.
This scale is designed to be easy to use, with a low-profile design that makes it easy to move animals on and off the scale. It also features an easy-to-read LCD screen, which makes it simple to record weight readings.
In addition, the LS-920-2k comes with outdoor upgrade options, making it an ideal choice for use in outdoor environments. These upgrades can help protect the scale from water damage, ensuring that it delivers accurate measurements even in challenging weather conditions.
Overall, if you need a reliable and accurate scale for weighing small animals, the LS-920-2k industrial floor scale from Liberty Scales is an excellent choice. Its durable construction, ease of use, and precise measurements make it an essential tool for any farmer or animal handler.
Indicator Features:
Multiple weighing units: (lb/oz/kg)
Gross/Tare/Zero
Low power design, longer battery usage time
Hold function, locks the weight
Idle mode and automatic power-off function
Low-battery detection and warning
6 digits 0.7" tall LCD display with backlight
Splash-proof  keyboard and display
RS232 Output
Prints with LS-25-T Thermal receipt printer ( Label papers also available ) 
Stainless steel wall mount bracket included
Scale base: 
Portable with carrying handles and wheels

Thread plated surface

Ramped ends

Adjustable feet

Indicator with large LCD display and rechargeable battery

18" long sturdy metal shielded cable

Weatherproof option available

Factory Calibrated 

Overload Protection

5-year warranty on parts

Capacity: 2000 lbs 

Accuracy: .5 lb 

Platform 50" x 20" / 1300 x 500 (mm)