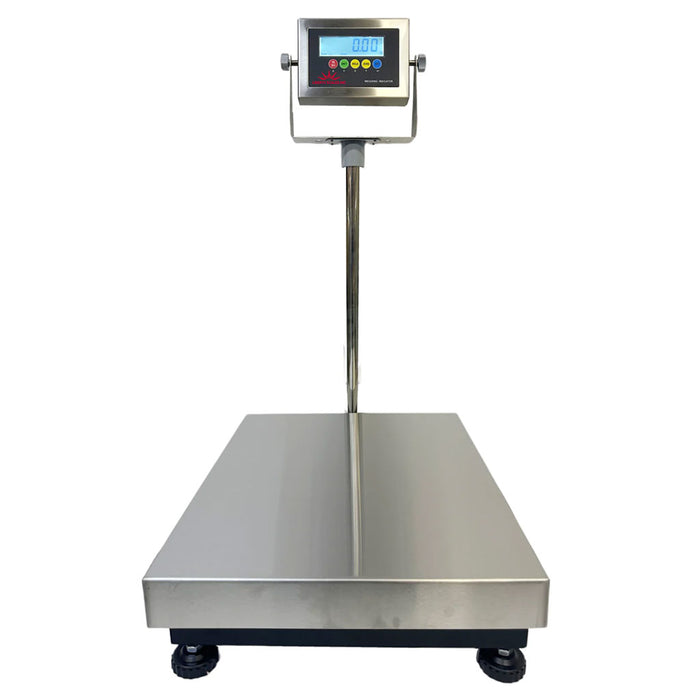 LS-916-20x16 Industrial Bench scale 20" x 16" Stainless steel platform & indicator 600 lb x .05 lb
Original price
$499.00
-
Original price
$499.00
Get ready to meet the remarkable LS-916-20x16 bench scale from Liberty Scales! This sensational weighing model is set to redefine your expectations. Brace yourself for a weighing experience like no other!
Featuring a generous platform size of 20" x 16" (51 cm x 41 cm), this scale offers an impressive maximum capacity of 600 lb (272 kg) with a superb accuracy of 0.05 lb (0.02 kg). Prepare to tackle your heaviest weighing tasks with ease and precision. One of the standout features of the LS-916-20x16 is its easy-to-clean stainless steel indicator and platter. Say goodbye to stubborn stains and tedious cleaning routines. With just a simple wipe, this scale will shine like new, saving you time and effort. Portability is a key aspect of this scale's design. It boasts a lightweight construction, allowing you to effortlessly transport it wherever you need. From the warehouse to the kitchen, this scale is your trusted companion for accurate weighing on the go.
Equipped with a built-in battery, the LS-916-20x16 ensures uninterrupted performance. After a single charge, the battery can last up to an incredible 100 hours. No need to worry about power outlets or running out of juice during crucial weighing operations.
Liberty is proud to offer a generous 5-year warranty for this exceptional product. Their commitment to quality and customer satisfaction is second to none. Rest assured, they have your back for years to come. But that's not all. In addition to the fantastic warranty, Liberty Scales provides free shipping right to your doorstep. Its convenience is delivered straight to you, without any additional charges.
Are you ready to elevate your weighing experience? The LS-916-20x16 bench scale from Liberty Scales is the ultimate solution for your weighing needs. With its impressive capacity, accuracy, and easy-to-clean stainless steel design, it's a game-changer.
*** Disclaimer: This is a Non-NTEP, it is not a certified scale. Customers that need to purchase an NTEP scale refer to our LS-915-Series.