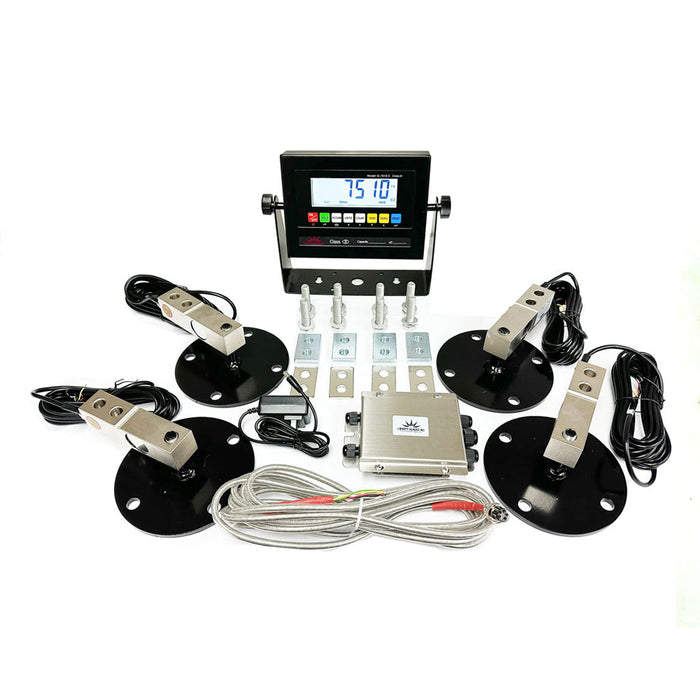 Liberty LS-720-414B Weighing Kit ( Multi-Purpose / Floor Scale ) NTEP / Legal for Trade
Original price
$659.00
-
Original price
$2,499.00
Introducing the LS-720-414B Load Cell Kit by Liberty Scales – the ultimate solution for accurate and reliable weighing needs in industrial and commercial environments.
This versatile load cell kit is available in alloy steel and stainless steel, ensuring durability and longevity even in the harshest conditions. The LS-720-414B boasts an impressive weight range, handling loads from 1,000 lbs to 40,000 lbs.
Designed to meet the highest industry standards, our load cell kits are NTEP-certified, guaranteeing accuracy and consistency in every application. To further enhance your weighing experience, the LS-720-414B Load Cell Kit is compatible with a wide range of accessories.
Key Features:
Choose from printers, scoreboards, software, and explosion-proof indicators to create a fully customized and efficient weighing system tailored to your requirements. The LS-720-414B Load Cell Kit has industrial 6" feet, ensuring a secure and sturdy foot grounding for each load cell.
The Liberty LS-720-414B Weighing Kit is a comprehensive package with everything you need to build your own scale except the platform. This allows you to create a custom capacity scale that fits your specific requirements. Whether you need to weigh liquids in tank hoppers or wooden boards, this kit covers you.
One of the standout features of this weighing kit is its ability to be customized. You can add more load cells to meet your needs or upgrade parts and accessories as required. This ensures you can tailor the scale to suit your unique application, giving you complete control over your weighing process.
With 200% overload protection on the load cells, you can rest assured that this weighing kit is built to withstand heavy-duty usage. It provides accurate measurements even under high-stress conditions, ensuring reliable results.
Equipped with the LS-7510 NTEP indicator, this weighing kit offers advanced features that make it stand out. The indicator boasts a bright LED display, providing clear and easy-to-read measurements, even in low-light environments. With its wall-mounting stand and RS-232 compatibility, you can customize and upgrade your weighing experience.
The heart of this weighing kit lies in its 4 NTEP load cells, which come in various capacities to suit your specific requirements. Combined with the mounting hardware, these load cells ensure stability and durability, guaranteeing accurate measurements even in demanding environments.
To further enhance its convenience, the Liberty LS-720-414B Weighing Kit includes a NEMA-rated 4 port junction box made of stainless steel. This junction box provides secure connections for your load cells and ensures reliable data transmission.
We understand the importance of ease of use, so we've included four leveling feet with this kit. These feet allow you to quickly and easily adjust the scale's height and ensure a perfectly level surface for precise weighing.
With a generous 20-foot-long stainless steel shielded cable with a quick disconnect mechanism, you can position your scale wherever it's most convenient.
Experience the unmatched precision and reliability of the Liberty LS-720-414B Weighing Kit. Whether you need to weigh large or small objects, this kit has covered you. Invest in quality and accuracy with Liberty Scales today.
Shipping Policy:

We offer free shipping for business addresses within the contiguous 48 states. For residential delivery, a small additional fee of $100 applies. Lift gate services are also available for easy unloading, with an optional $50 charge if no forklift is available. People from Hawaii & Alaska can Contact us for personalized Shipping Quotes. Your satisfaction is our Top Priority! Kindly provide your contact number and company name for business purchases.