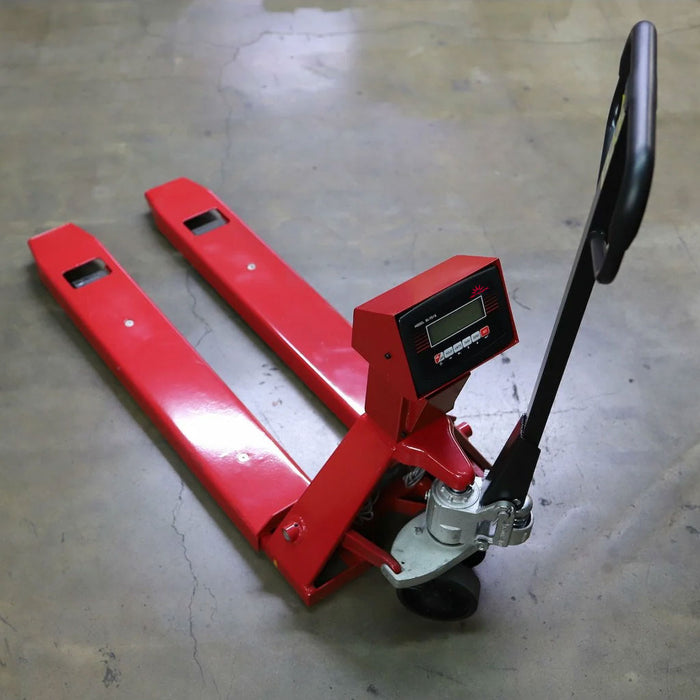 Liberty LS-5000-E-Narrow Pallet Jack Scale for European Pallet or Smaller Pallets
Save

$1,200.00
Save

$1,200.00
Original price
$2,499.00
-
Original price
$2,499.00
Introducing the Liberty LS-5000-E-Narrow Pallet jack scale, the ultimate solution for efficiently weighing European pallets or smaller pallets.
This heavy-duty industrial marvel is designed to handle a maximum capacity of 5000 lbs with precision increments of 1 lb, making it an indispensable tool for any warehouse or distribution center.
Key Features:
With its effortless steering capabilities, the handle's ergonomic design ensures maximum comfort and control. Say goodbye to strain and fatigue as you effortlessly navigate through your workspace.
The LS-5000-E-Narrow boasts a remarkably low profile and tapered forks, allowing for seamless entry into pallets without any hassle. No more struggling to position the jack or damaging goods in the process. It's smooth sailing all the way.
One of the standout features of this pallet jack scale is its versatility. It is also compatible with regular-sized pallets and is designed specifically for European pallets or smaller pallets. This makes it an ideal choice for businesses dealing with varying load sizes or operating in tight spaces where maneuverability is crucial.
Whether you need to weigh your goods inside your facility or outdoors, this pallet jack scale is up to the task. Its robust construction ensures durability and reliability even in challenging environments. You can trust it to deliver accurate weight measurements wherever you need them.
With its low profile design, the Liberty LS-5000-E-Narrow is built to effortlessly glide under pallets with a minimum height of just 3 inches. Its impressive lifting capabilities allow for easy maneuvering, while the rubber-rimmed wheels ensure smooth and stable movement, preventing any damage to delicate flooring surfaces.
Equipped with four alloy steel shear beam load cells, this pallet jack scale guarantees accurate and reliable weight measurements. The stainless steel NEMA 4X junction box, along with the signal trim summing board, ensures optimal performance even in challenging industrial environments.
The Liberty LS-5000-E-Narrow boasts an overall size of 63" x 21" x 47", providing ample space for handling various pallet sizes. The fork size measures 45.5" x 21" x 2.25", making it perfectly tailored for European pallet dimensions.
To simplify operations and enhance user experience, this pallet jack scale comes with the LS-7516 indicator. Its user-friendly interface and intuitive controls allow weighing tasks to be completed swiftly and efficiently.
Rest easy knowing that your investment is protected with the Liberty LS-5000-E-Narrow's exceptional 5-year warranty. We stand behind the quality and durability of our product because we understand the demands of your business.
Experience the power and precision of the Liberty LS-5000-E-Narrow Pallet jack scale and take your weighing operations to new heights. With its unmatched features and reliability, it's no wonder why Liberty Scales is a trusted name in the industry.
Shipping Policy:

We offer free shipping for business addresses within the contiguous 48 states. For residential delivery, a small additional fee of $100 applies. Lift gate services are also available for easy unloading, with an optional $50 charge if no forklift is available. People from Hawaii & Alaska can Contact us for personalized Shipping Quotes. Your satisfaction is our Top Priority! Kindly provide your contact number and company name for business purchases.
Order yours today and revolutionize your weighing process.