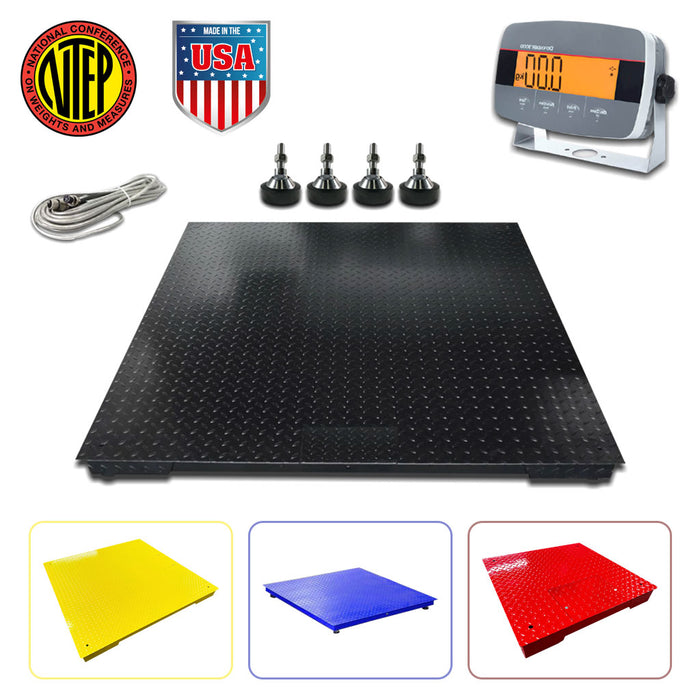 Build-your own, LS-900-USA All sizes floor scales, NTEP certified ( legal for trade )
Original price
$999.00
-
Original price
$6,999.00
Introducing the LS-900-USA All Sizes Floor Scale, the ultimate choice for industrial weighing needs. This top-of-the-line floor scale from Liberty Scales is proudly made in the USA, ensuring superior quality and performance.

We understand that every business has different requirements. That's why we offer a range of accessory options that can be integrated with the LS-900-USA Floor Scale to meet your unique operational needs. From ramps and indicator stands to printers and remote displays, you can customize your floor scale to create a comprehensive weighing system tailored specifically for your business.

Size Options:
Capacity & Accuracy Options:
1000 lb x 0.2 lb:

 

Perfect for precise measurements in lighter applications.
2500 lb x 0.5 lb:

 

Reliable accuracy for medium-sized loads.
5000 lb x 1 lb:

 

Handling heavier items with ease.
10,000 lb x 1 lb:

 

Heavy-duty capacity for demanding tasks.
20,000 lb x 2 lb:

 

The ultimate power for your industrial weighing needs.
No matter your size or capacity, the Liberty Scales LS-900 USA-made Floor Scale guarantees precision and durability. Elevate your weighing experience with Liberty Scales – Where Size Meets Accuracy!
Key Features:
With SellEton's LS-900-USA Floor Scale, you get more than just a scale – you get a complete weighing solution. Each unit comes with the LS-7510 Series indicator, guaranteeing accurate and reliable measurements every time.
The indicator features a 6-digit, 1-inch display allowing easy reading, even in low-light conditions.
Crafted with precision, this industrial floor scale is constructed from welded steel and tread plate, providing exceptional durability to withstand heavy loads and rigorous usage.
The platform is designed to offer maximum stability and support, making it ideal for a wide range of applications in warehouses, factories, and shipping centers.
The LS-900-USA Floor Scale goes above and beyond with its impressive features. It boasts 200% overload protection, ensuring the scale remains intact despite extreme weight conditions.
The built-in RS-232 communication port allows seamless data transfer to external devices, streamlining your workflow.
Plus, the 20-foot long heavy-duty metal shielded cable provides flexibility and convenience during operation.
This NTEP-certified floor scale is legal for trade use, meeting all necessary standards and regulations.
It comes factory-calibrated for immediate use upon delivery, saving you time and effort.
The LS-900-USA Floor Scale also has a 5-year warranty, guaranteeing peace of mind and long-term reliability.
Choose the LS-900-USA All Sizes Floor Scale from Liberty Scales and experience the power of a USA-made industrial floor scale that exceeds expectations in quality, performance, and versatility.
Shipping Options:
FREE SHIPPING:

 

Enjoy complimentary shipping to business addresses within the contiguous 48 states of the US.
Residential Delivery:

 

For home-based convenience, opt for residential delivery with an additional $100 shipping fee.
Lift Gate Services:

 

Need a forklift? No problem! Access the lift gate service for just $50.
Hawaii & Alaska:

 

Customers in these regions, please reach out for a customized shipping quote.
Upgrade your weighing capabilities today and transform your operations with this exceptional floor scale.