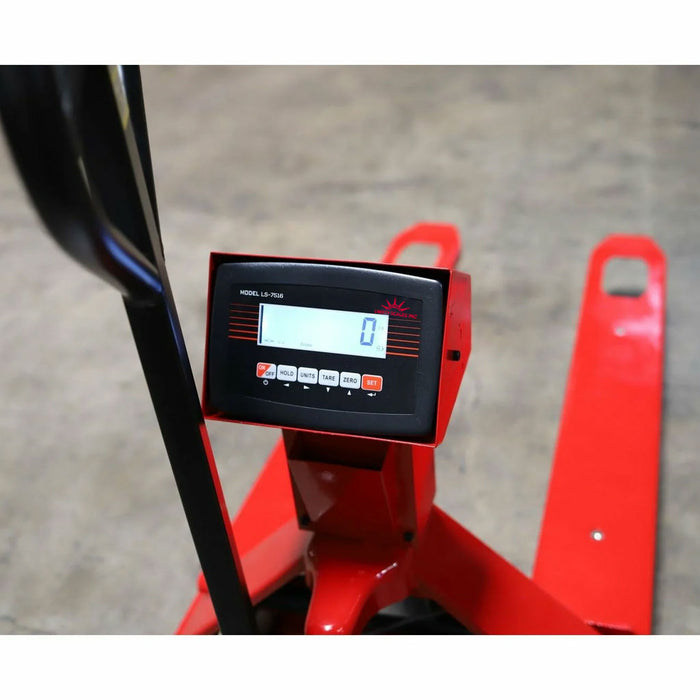 Liberty LS-5000-E Industrial warehouse truck/ pallet jack scale with 5000 lb x 1lb
Original price
$1,399.00
-
Original price
$1,399.00
Introducing the Liberty LS-5000-E Industrial warehouse truck/ pallet jack scale with 5000 lbs x 1 lb.
This innovative unit combines the convenience of a pallet jack with the accuracy of a built-in scale system, making it an essential tool for any warehouse or industrial setting.

Key Features:
Effortless steering is at your fingertips with the Liberty LS-5000-E. Its ergonomic handle design ensures comfortable operation, reducing strain and fatigue. Maneuvering heavy loads has always been challenging.
One of the standout features of this pallet jack scale is its low profile and tapered forks. This design allows for seamless pallet entry, saving you valuable time and effort. No more struggling to position the forks correctly - the Liberty LS-5000-E glides effortlessly into place.
Whether you need to weigh goods indoors or outdoors, this pallet jack scale covers you. Its durable construction and robust design make it suitable for various environments. Moving from one location to another easily, knowing that accurate weighing is just a lift away.
Say goodbye to the hassle of separate weighing scales and cumbersome equipment. The Liberty LS-5000-E offers a practical and efficient solution that streamlines your operations. With its 5000 lbs x 1 lb capacity, you can accurately weigh even the heaviest loads.
With a low profile and a minimum height of just 3.25 inches, this pallet jack scale effortlessly maneuvers even in confined spaces, making it the perfect choice for busy warehouses. The durable construction ensures long-lasting performance, thanks to its 4 alloy steel shear beam load cells and stainless steel NEMA 4X junction box with a signal trim summing board.
Equipped with rubber-rimmed wheels, the Liberty LS-5000-E glides smoothly on any surface, providing stability and ease of movement. Its pallet jack size of 50" x 27" x 48.5" allows for efficient loading and unloading of goods, reducing downtime and improving productivity.
The package comes pre-configured and calibrated as 5000 x 1lb, providing accurate weight measurements right out of the box. The LS-7516 indicator ensures precise readings and user-friendly operation, giving you complete control over your inventory management.
As a testament to its exceptional quality, the Liberty LS-5000-E has a confidence-inspiring 5-year warranty. You can rely on this robust pallet jack scale to withstand the demands of your warehouse environment, ensuring reliability and accuracy for years to come.
Invest in the Liberty LS-5000-E Industrial warehouse truck/ pallet jack scale and experience the convenience and functionality it brings to your workspace. Simplify your workflow, save time, and ensure accurate weighing with this exceptional equipment.
Shipping Policy:

We offer free shipping for business addresses within the contiguous 48 states. For residential delivery, a small additional fee of $100 applies. Lift gate services are also available for easy unloading, with an optional $50 charge if no forklift is available. People from Hawaii & Alaska can Contact us for personalized Shipping Quotes. Your satisfaction is our Top Priority! Kindly provide your contact number and company name for business purchases.
Trust in Liberty scales for all your weighing needs.