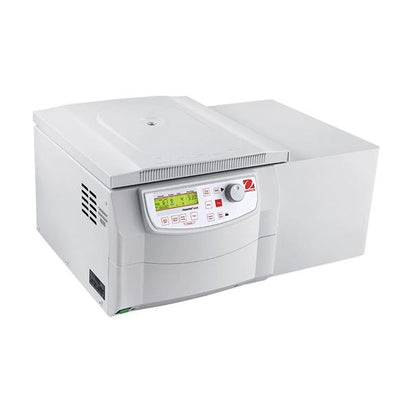 Ohaus FC5816R Frontier 5000 Series Multi Pro Centrifuge, 6 x 250 ml, 24,325 g - 120V
Original price
$9,951.00
-
Original price
$9,951.00
Introducing the Ohaus FC5816R Frontier 5000 Series Multi Pro Centrifuge, a versatile and powerful laboratory instrument designed to streamline your workflow and enhance your research capabilities.
With a maximum capacity of 24,325 g and a readability of 6 x 250 ml, this centrifuge is an essential tool for a wide range of applications.

Featuring a high-speed centrifugation platform, the Ohaus FC5816R allows you to customize your centrifugation process to meet your specific needs. With various rotors and accessories available, you can quickly adapt the instrument to accommodate different sample types and volumes.

One of the standout features of this centrifuge is its intuitive design, which provides easy access to parameter settings and seamless switching between applications. The automatic rotor recognition feature ensures accurate and efficient operation, while the backlit LCD offers clear visibility even in low-light conditions.

Engineered with precision and durability in mind, the Ohaus FC5816R is built to withstand the rigors of daily laboratory use. Constructed from chemical-resistant stainless steel, it ensures longevity and reliability, making it a valuable asset for any lab environment.

The Ohaus FC5816R is not limited to a single application. It excels in various areas, including centrifugal separation, general sample preparation, cell pelleting, protein separation, nucleic acid separation, cell concentrating, chemical separation, diagnostics, environmental sample preparation, and blood sample processing. Its versatility makes it an indispensable tool for researchers across different disciplines.

Key design features include ten acceleration and deceleration rates, allowing you to customize your spin cycles according to your requirements. You can select running times from as short as 10 seconds to as long as 99 hours and 59 minutes or run continuous operations. The quick spin feature enables fast processing of samples when time is of the essence.

Built with safety in mind, the Ohaus FC5816R is equipped with a lid-locking system, over-speed protection, and dual imbalance sensing. These features ensure secure and reliable operation, protecting the instrument and the user.

Experience the power and efficiency of the Ohaus FC5816R Frontier 5000 Series Multi Pro Centrifuge. Whether you're conducting cutting-edge research or routine laboratory procedures, this centrifuge delivers exceptional performance, reliability, and ease of use.
Invest in this advanced centrifuge and elevate your scientific endeavors to new heights.