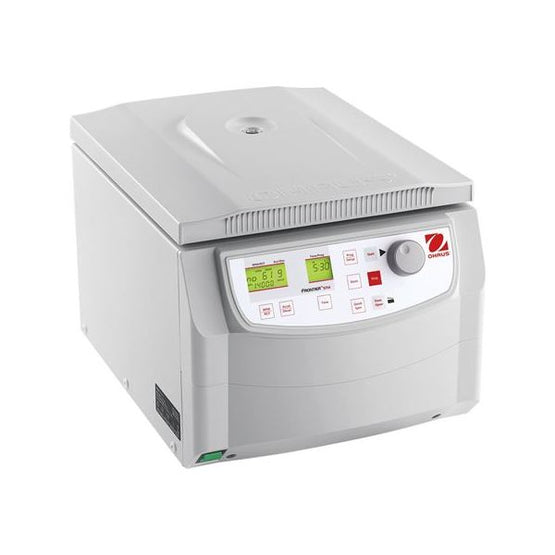 Ohaus FC5714 Frontier 5000 Series Multi Pro Centrifuge, 4 x 100 ml, 18,624 g - 230V
Original price
$3,756.00
-
Original price
$3,756.00
Introducing the Ohaus FC5714 Frontier 5000 Series Multi Pro Centrifuge, a powerful and versatile lab instrument that revolutionizes centrifugation.
With a maximum capacity of 18,624 g and a readability of 4 x 100 ml, this centrifuge is designed to meet all your laboratory needs.

Built with German engineering and high-quality components, the FC5714 delivers exceptional performance and reliability. Its chemical-resistant stainless steel construction ensures durability even in demanding lab environments. This centrifuge is truly built to last.

What sets the FC5714 apart is its intuitive design and user-friendly interface. Accessing parameter settings and switching between applications is a breeze, thanks to the automatic rotor recognition and backlit LCD. Say goodbye to time-consuming manual adjustments and hello to efficient workflow.

With various rotors and accessories available, this centrifuge can be customized to fit your specific requirements. Whether you're performing centrifugal separation, general sample preparation, protein or nucleic acid separation, cell pelleting, or chemical separation, the FC5714 has got you covered.

Equipped with ten acceleration and deceleration rates, you have complete control over the speed and duration of your runs. Choose between running times from 10 seconds to 99 hours and 59 minutes, or run continuously for extended experiments. The quick spin feature allows for rapid sample processing when time is of the essence.

Safety is paramount when it comes to lab equipment, and the FC5714 prioritizes it. The lid-locking system ensures secure operation, while the over-speed protection and dual imbalance sensing provide peace of mind during every run.

Upgrade your lab with the Ohaus FC5714 Frontier 5000 Series Multi Pro Centrifuge. Experience the power of German engineering combined with user-friendly features that make centrifugation a breeze.
Invest in reliability, efficiency, and precision for all your laboratory applications.