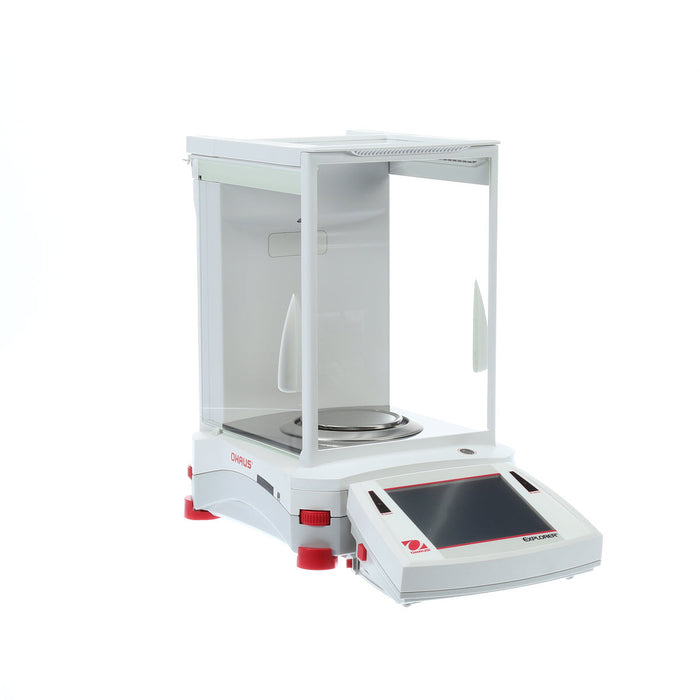 Ohaus Explorer Analytical EX324/AD, Strainless Steel, 320 g x 0.1 mg
Original price
$7,093.00
-
Original price
$7,093.00
Introducing the Ohaus Explorer Analytical EX324/AD, Stainless Steel, 320 g x 0.1 mg.
This exceptional balance from the renowned Liberty Scales brand combines cutting-edge features with a sleek design to deliver unparalleled performance in high-precision weighing.


Engineered with a precision-machined weighing cell crafted from solid metal, the Ohaus Explorer Analytical EX324/AD guarantees exceptional accuracy and durability, making it the perfect choice for both laboratory and industrial environments. No matter how complex your measurements may be, this balance simplifies the process with its intelligent features.

One standout feature of the Explorer Analytical EX324/AD is its advanced four-level user management system, complete with password protection. This ensures that only authorized personnel can access the balance, making it ideal for regulated applications. An uneditable system log also provides an extra layer of security and traceability.

The detachable terminal of the Explorer Analytical EX324/AD boasts a large color touchscreen display, allowing for easy operation and clear visibility of your results. The programmable infrared sensors enable hands-free operation, while the automatic doors and frameless draft shield enhance convenience during weighing procedures.

Versatility is a vital attribute of this balance, as it offers an array of applications to suit various weighing needs. Whether you're performing parts counting, percent weighing, check weighing, or even animal/dynamic weighing, the Explorer Analytical EX324/AD has got you covered. Other functions include filling, totalization/statistics, formulation, differential weighing, density determination, peak hold, ingredient costing, pipette adjustment, and SQC.

Designed for convenience and satisfaction, this balance also features selectable environmental filters, auto-tare functionality, user-selectable span calibration points, and customizable communication settings. With up to 14 operating languages available and a software lockout and reset menu for added control and security, the Ohaus Explorer Analytical EX324/AD truly caters to your specific requirements.

Invest in the Ohaus Explorer Analytical EX324/AD and experience a new level of precision, reliability, and ease of use. Trust Liberty Scales to deliver exceptional quality and performance with every product.