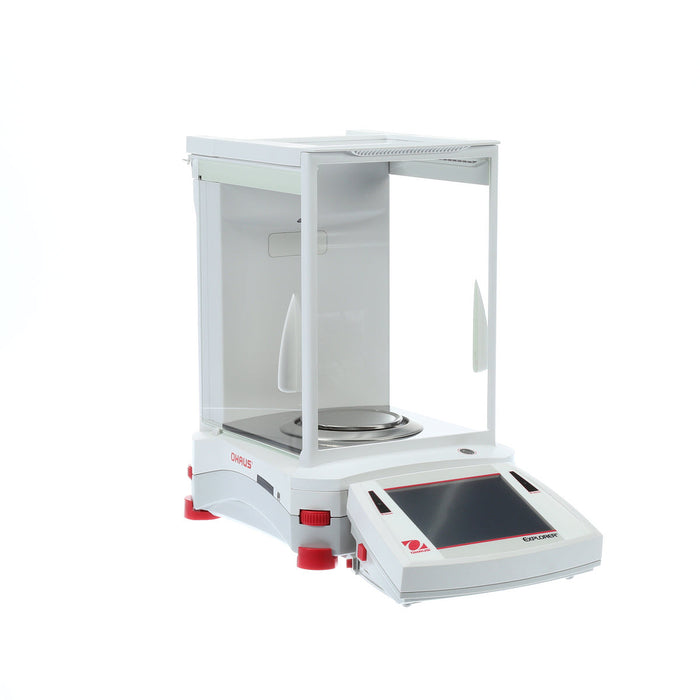 Ohaus Explorer Semi Micro EX225/AD, Strainless Steel, 220 g / 0.01 mg
Original price
$11,459.00
-
Original price
$11,459.00
When precision is paramount in laboratory work and research, the Ohaus Explorer Semi-Micro EX225/AD balance leaves no room for error.
With its cutting-edge technology, this balance ensures accurate weighing results to the hundred-thousandth. Explicitly designed for sophisticated laboratories that demand accuracy and innovative technology, the Explorer semi-micro balance delivers exceptional performance.


The weighing cells of the Explorer balance are precision-machined from a solid metal block, guaranteeing both accuracy and durability even in demanding laboratory and industrial environments. The AutoCalTM feature further enhances accuracy by automatically calibrating the balance.

With four-level user management and password protection, the Explorer balance is well-suited for regulated applications. Its system log is un-editable, providing a high level of data integrity. Additionally, this balance offers high configurability to meet specific needs.

The Explorer balance boasts a detachable terminal with a large color touchscreen for easy operation. Programmable IR sensors add convenience, while optional features such as a built-in Ionizer and automatic doors enhance usability. The frameless draft shield ensures unobstructed access to the weighing pan.

This versatile balance supports a wide range of applications, including weighing, percent weighing, parts counting, check weighing, dynamic/animal weighing, filling, totalization, formulation, differential weighing, density determination, peak hold, pipette adjustment, and SQC.

The full-color VGA graphic display with a 5.7-inch diagonal size provides a clear view of measurement data. The QWERTY keyboard and numeric keypad allow quick input of GLP and GMP data and other application-specific information.

The Ohaus Explorer Semi-Micro EX225/AD features easy-access communication ports, including two USB ports and RS232, with an optional fourth port of RS232 or Ethernet. It also offers GLP/GMP data output with a real-time clock and data transfer function.

The balance ensures durability, constructed with a metal base and ABS top housing. The stainless steel pan is corrosion-resistant, while the anti-static glass draft shield with a flip-top door protects against environmental factors. The balance also includes a replaceable in-use cover and offers the option of an automatic door.

Key design features of the Ohaus Explorer Semi-Micro EX225/AD include the AutoCal™ fully-automatic internal calibration system, fast stabilization time, four touchless sensors, built-in ionizer (automatic door models), support for up to 14 operating languages, availability of OIML models, SAVE to USB function, menu lock switch, security bracket, integral weigh below hook for below balance weighing applications, removable stainless steel weighing platform, stability indicator, overload and underload indicators, and auto standby.

Experience unparalleled accuracy and advanced technology with the Ohaus Explorer Semi-Micro EX225/AD balance. It is truly a reliable partner for precise measurements in laboratory settings.