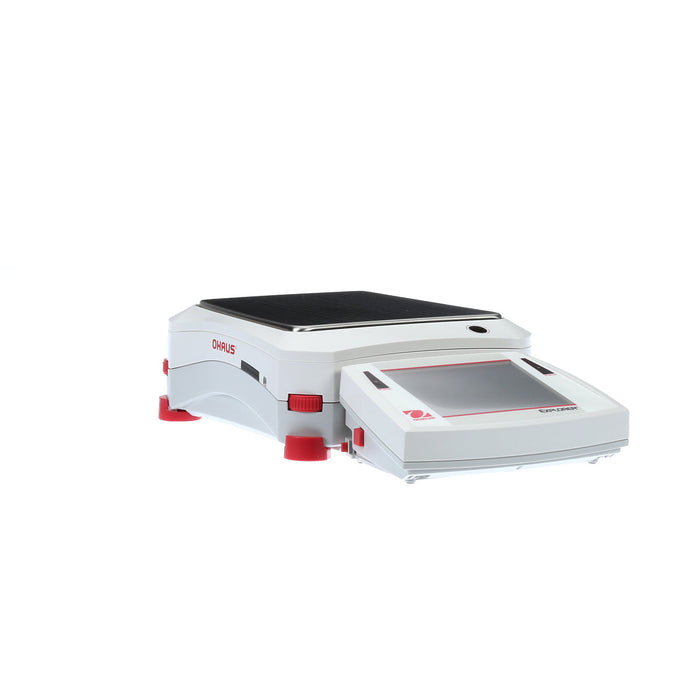 Ohaus Explorer Precision NTEP EX10201N, Stainless Steel, 10200g x 0.1g
Original price
$4,875.00
-
Original price
$4,875.00
Introducing the Ohaus Explorer Precision NTEP EX10201N, Stainless Steel, 10200g x 0.1g - the ultimate solution for accurate and efficient weighing in laboratory and industrial environments.
This flagship balance from OHAUS combines cutting-edge technology with robust construction to deliver exceptional performance.


The Explorer balance is equipped with a precision-machined weighing cell, which offers unrivaled accuracy and durability. Its solid metal block construction ensures precise measurements, even in the most demanding applications. Whether you're weighing chemicals, ingredients, or samples, this balance always provides reliable results.

Featuring a large 5.7" full-color VGA graphic touchscreen display, the Explorer balance offers a user-friendly interface for effortless navigation and control. With adjustable brightness settings, you can quickly adapt the display to your preferred viewing conditions. The touchscreen interface also enables quick access to various functions and settings, making your weighing tasks more efficient than ever before.

Connectivity is made easy with the Explorer balance. It comes equipped with RS232 and USB ports for seamless data transfer. For enhanced connectivity options, you can add a second RS232/Ethernet port (accessories sold separately). The balance also offers GLP/GMP data output with a real-time clock, ensuring accurate record-keeping and traceability.

Designed with user convenience, the Explorer balance features a detachable terminal that houses the touchscreen display. This allows for flexible positioning and easy operation. The terminal also boasts programmable IR sensors, enabling touchless control of certain functions. With a frameless draft shield and top-mounted side doors, accessing your samples is effortless while maintaining optimal weighing conditions.

The Explorer balance offers advanced features like selectable environmental filters, auto tare, and user-selectable span calibration points. It also includes software lockout and reset options for added security. With user-definable projects and user IDs, you can easily organize your weighing tasks. Additionally, the balance supports up to 14 operating languages, ensuring compatibility with diverse user needs.

To ensure uninterrupted operation, the Explorer balance comes with an AC adapter. This reliable power source ensures consistent performance, allowing you to focus on your work without interruptions.

In summary, the Ohaus Explorer Precision NTEP EX10201N, Stainless Steel, 10200g x 0.1g is a high-quality precision balance that combines accuracy, durability, and convenience. Its advanced features and user-friendly interface make it the perfect choice for laboratories and industrial settings.
Trust in Ohaus for all your weighing needs.