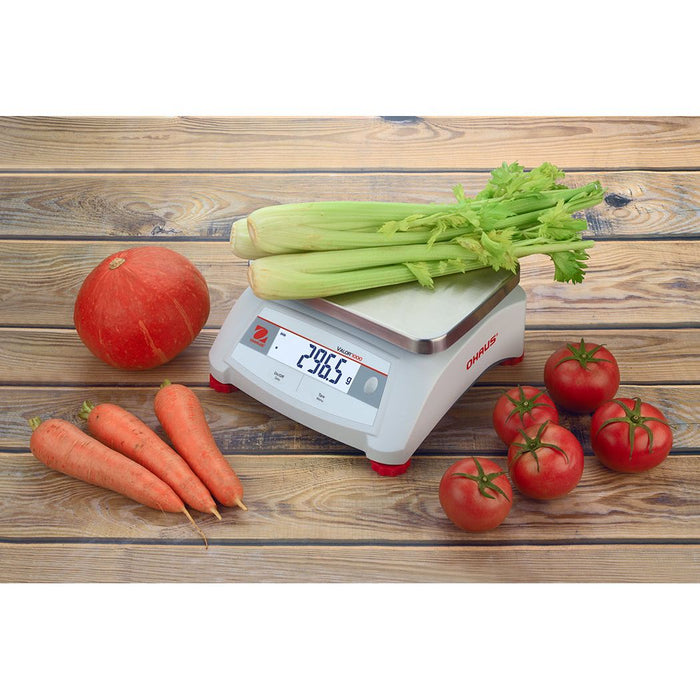 OHAUS 9.65" x 7.48" Valor 1000 V12P6 Food-safe Scale 15 lb x 0.002 lb
Original price
$262.00
-
Original price
$262.00
Introducing the OHAUS 9.65" x 7.48" Valor 1000 V12P6 Food-safe Scale, the perfect companion for all your food preparation needs.
With its NSF-certified and USDA AMS-accepted design, this scale fully supports HACCP systems, ensuring the utmost safety and reliability in your kitchen.
The Valor 1000 comes equipped with stainless steel pans and optional plastic in-use covers, providing an extra layer of protection against spills and contaminants. Whether you're measuring ingredients or portioning out meals, this scale will help you maintain the highest standards of cleanliness and hygiene.
One of the standout features of the Valor 1000 is its energy-efficient design. Say goodbye to constantly replacing batteries as this scale can operate for up to one year or 1,500 hours on a single charge. Not only will this save you money in the long run, but it also ensures uninterrupted productivity in your kitchen.
Simplicity meets efficiency with the intuitive two-button operation of the Valor 1000. Checking weights has never been easier, allowing you to streamline repetitive tasks and increase overall operator efficiency. Spend less time fumbling with complicated controls and more time focusing on what matters most - creating delicious dishes.
The Valor 1000 also boasts a range of advanced features to enhance your weighing experience. The LCD display with white backlight provides clear visibility even in low-light environments. For models with a "T" designation, enjoy the convenience of a dual display. With the option to use D-cell alkaline batteries or a power adapter, this scale offers flexibility to suit your specific needs.
Built to withstand the demands of a busy kitchen, the Valor 1000 features ABS housing, durable plastic or stainless steel pan, and convenient carry handles for easy transportation. The external digital calibration software ensures accurate measurements at all times, while the integrated level bubble and adjustable feet guarantee stability on any surface.
With selectable weighing units and optional RS232 communication, the Valor 1000 adapts to your unique requirements. This scale is not just a functional tool, but a reliable partner in your culinary journey.
Experience the convenience and precision of the OHAUS 9.65" x 7.48" Valor 1000 V12P6 Food-safe Scale - the ultimate choice for professional chefs, home cooks, and anyone who values accuracy in their kitchen.