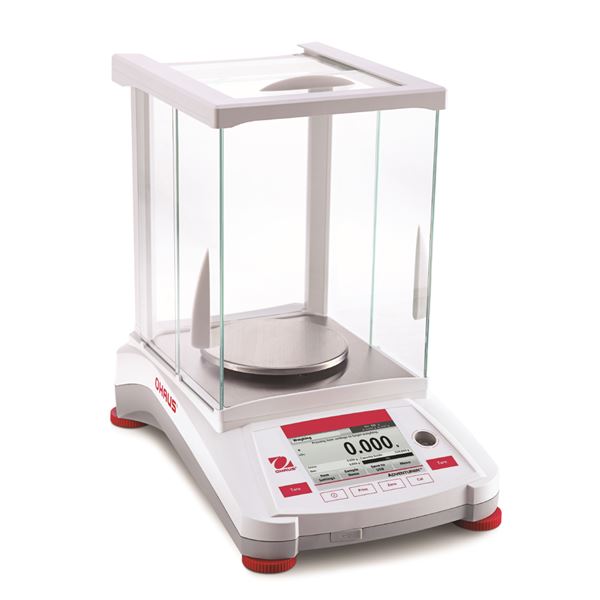 Ohaus Adventurer Precision AX523N/E, Legal For Trade, 520g x 0.001g
Original price
$2,707.00
-
Original price
$2,707.00
Introducing the Ohaus Adventurer Precision AX523N/E, Legal For Trade, 520g x 0.001g - the ultimate solution for precise weighing needs.
This precision balance is valuable for various industries with its exceptional features and versatility.

Featuring a vibrant color touchscreen and an intuitive icon-based user interface, the Adventurer balance offers a seamless user experience. Navigating through its functions and settings is effortless, allowing users to configure and operate the balance easily.

Equipped with specialized weighing modes, this balance adapts to various needs. Whether you require piece counting, percent weighing, or dynamic weighing, the Adventurer covers you. Its flexibility extends further with multiple connectivity options, such as RS232 and USB ports, ensuring seamless data transfer to your computer or peripheral devices.

Built with durability in mind, this balance is designed to withstand rigorous use in lab, educational, and industrial environments. The metal base provides stability, while the ABS top housing ensures long-lasting performance. The stainless steel pan offers ample space for weighing samples up to 520g, while the glass draft shield with top-mounted side doors and sliding top door (available on 1mg models) protects delicate samples from external influences.

The Adventurer also prides itself on its advanced features that enhance productivity and efficiency. With selectable environmental filters, you can eliminate interference caused by vibration or drafts. The auto-tare function simplifies weighing processes by automatically subtracting the weight of containers. Additionally, the balance allows for user-defined calibration points and communication settings, ensuring customization to meet specific requirements.

This precision balance comes with an AC adapter for a convenient power supply. Its compact design makes it ideal for limited spaces without compromising on functionality.

In conclusion, the Ohaus Adventurer Precision AX523N/E is a reliable and versatile laboratory balance that guarantees accurate results every time.
Experience the pinnacle of precision weighing with this exceptional product from Liberty Scales.