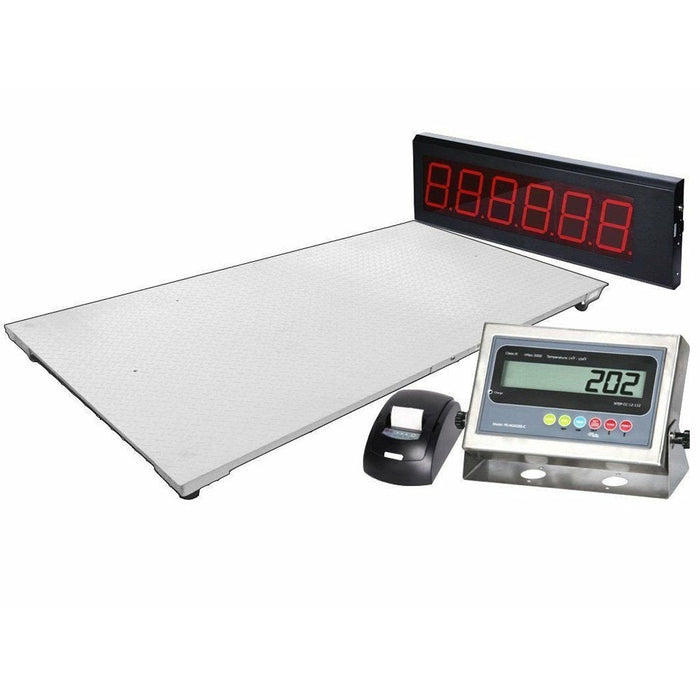 Liberty 60" x 84" Industrial Floor Scale with Printer & Scoreboard l 10,000 lbs x 1 lb
Original price
$2,897.00
-
Original price
$2,897.00
You are looking at our Non-NTEP  60' x 84' Ps-FS with Stainless Steel indicator, printer & Scoreboard option. This scale has the Capacity of 10,000 lbs x 1 lb 
Scale Specifications:
• Medium-duty industrial design
• Structural steel channel frame
• Height: 4″
• 4 alloy steel shear beam load cells
• Top load design
• ABS NEMA 4x junction box with excitation trim board
• 15′ load cell cable
• Rugged diamond deck treadplate
• 4 adjustable swivel steel feet
• Threaded eyebolt hole for lifting
• PS-IN 202  indicator w/ Rs-232 serial output
• Package configured & calibrated 5000/ 10000 Divisions
• One-year warranty!
Indicator Specifications:
1.5″ super Large LCD display with backlight
Power for 8 350 ohm load cells
Dual load cell channels
Units: Lb / Kg / oz
6 button operation
Auto / Manual accumulation
Com ports: RS-232 x 2 ( separate configuration)
Power: 11ov cord
Built-in rechargeable battery
Indicator size: 9.3″ x 6.5″ x 2.8″
Stainless steel bracket for table stand or wall mount
One-year limited warranty!
Printer Specifications:
Technology: Thermal
Dots per line: 384
Resolution: 8 dpmm
Max speed: 2.4″ per second
Paper feed: 0.005″
Bit/Line: 32
WxH dots: 6×8
Graphic supported
Paper check
Online / Offline check
Serial port and Infrared port
Buffering: 32K
ESC/P orders, compatible with IBM / EPSON
Working voltage: 7.5V
Current: 1-1.5A
Peak current: 2-3A
Paper width: 1.9″
Weight: 350g
Size: 4.5″ (W) x 5″ (D) x 3″ (H)
Scoreboard Specifications: 
5″ Bright LED Display
Auto-Learn Function
Bauder rate from 1200 to 12800
Wireless optional
Powered by 15V  AC/DC adapter
One-year limited warranty
Liberty's Shipping policy: 
FREE SHIPPING to a business address in the US 48 continental States. 
$100 Extra shipping cost to residential. 
$50  Extra for lift gate services. So if you don't have a forklift or loading dock, you will need this service. 
Hawaii, Alaska & Puerto Rico customers please call for a shipping quote. 
Thank you, 
Liberty