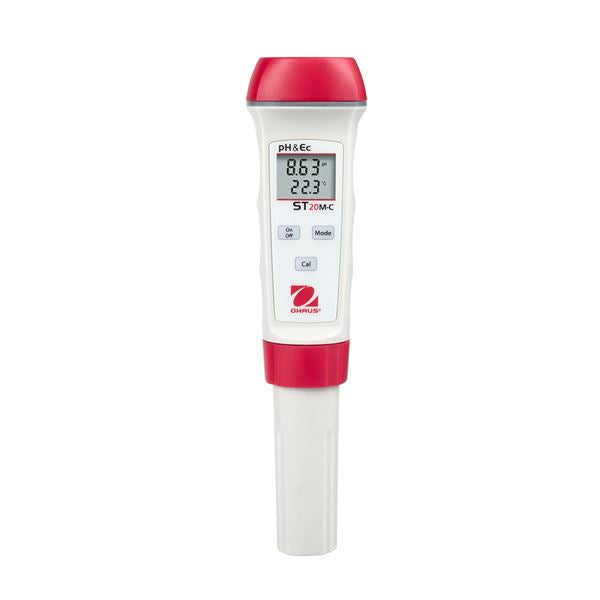 Ohaus Starter Pen Meter ST20M-C, 0.0 – 99.0 °C;0.00 – 14 pH, ± 0.05 pH
Original price
$158.00
-
Original price
$158.00
Introducing the Ohaus Starter Pen Meter ST20M-C, the ultimate companion for accurate and efficient measurements.
With its compact size and user-friendly design, this small yet powerful pen meter is perfect for those seeking simplicity without compromising on quality.

The Ohaus Starter Pen Meter ST20M-C features a wide temperature range of 0.0 – 99.0 °C and a pH range of 0.00 – 14, with a remarkable ± 0.05 pH accuracy. Whether you need to measure pH levels or conductivity, dissolved oxygen, salinity, or total dissolved solids, this versatile pen meter has got you covered.

Designed to withstand rough and wet environments, the ST20M-C boasts a durable IP67 waterproof ABS housing. Its protective sensor cap ensures the longevity of the electrodes, while the automatic shutdown feature conserves battery life, allowing for consistent use over time.

Worried about accidental drops? Don't be! The Ohaus Starter Pen Meter ST20M-C comes equipped with a convenient wrist strap that prevents mishaps and potential damage.

Featuring an easy-to-read liquid crystal display (LCD) with a secondary information line on select models, accessing your results has never been easier. Plus, with four 1.5V batteries included, you can start using your pen meter right out of the box.

The Ohaus Starter Pen Meter ST20M-C is more than just a measurement tool; it's an investment in accuracy and reliability. Its ABS housing ensures durability, making it suitable for laboratory use or even on-the-go applications.

Experience the freedom and convenience of the Ohaus Starter Pen Meter ST20M-C.
Order yours today from Liberty Scales, your trusted source for portable scales and laboratory balances.