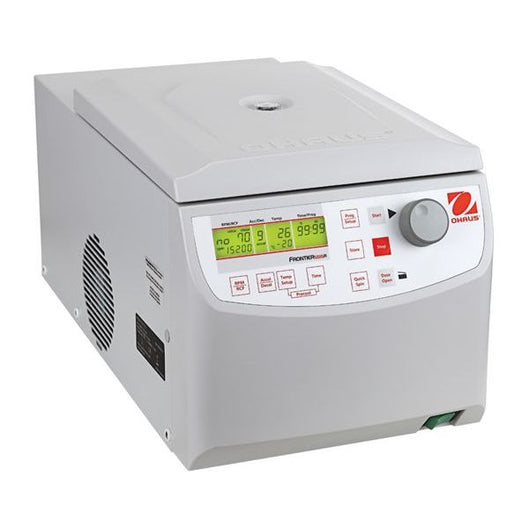 Ohaus Frontier Micro 5000, FC5515R, 44 x 1.5 / 2.0ml;12 x 5 ml, 21,953 g – 230V
Original price
$6,390.00
-
Original price
$6,390.00
Introducing the Ohaus Frontier Micro 5000, FC5515R, a centrifuge that combines outstanding functionality with user-friendly operation.
With a maximum capacity of 21,953 g, this centrifuge is perfect for handling various laboratory applications.

Equipped with rotors compatible with 1.5/2.0ml or 5ml microtubes, the Frontier Micro centrifuge offers excellent functionality for high-throughput processes. It can easily accommodate spin columns, PCR strips, cryo tubes, and even hematocrit capillaries. No matter what your research demands, this centrifuge has got you covered.

One of the standout features of the Frontier Microcentrifuge is its intuitive interface and convenient controls. Even when wearing gloves, researchers can easily navigate through the options and settings with responsive operation. Say goodbye to frustrating and time-consuming adjustments – this centrifuge makes it effortless.

What sets the Frontier Micro apart from other models is its compact design. Despite its powerful capabilities, this centrifuge occupies minimal space on your lab bench. Now, you can make the most of your limited workspace without compromising performance.

The LCD with backlight provides clear visibility even in low-light conditions, ensuring accurate readings at all times. Powered by AC, this centrifuge is always ready for action.

With a brushless quiet motor and multiple safety controls, the Frontier Micro prioritizes efficiency and user safety. It also offers a personal program function, allowing you to save customized settings for future use.

In conclusion, the Ohaus Frontier Micro 5000, FC5515R, is a reliable and versatile centrifuge that delivers exceptional performance in a compact package. Whether you're working with microtubes or specialized samples, this centrifuge will meet all your needs with ease.
Upgrade your laboratory setup today with the Frontier Micro and experience the difference it makes in your research process.