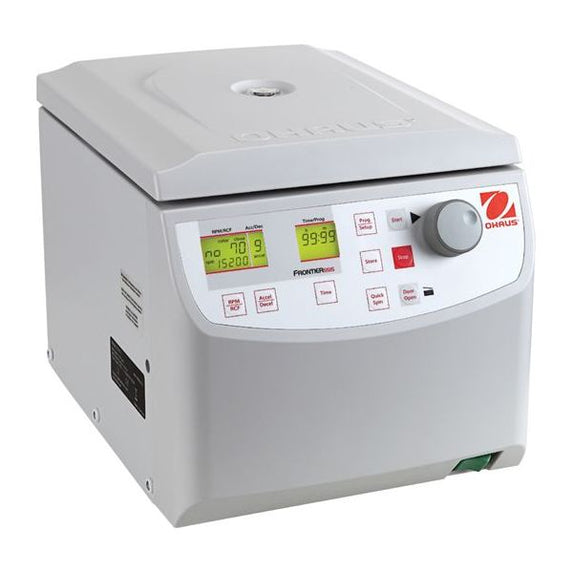 Ohaus Frontier Micro 5000, FC5515, 44 x 1.5 / 2.0ml;12 x 5 ml, 21,953 g – 230V
Original price
$2,965.00
-
Original price
$2,965.00
Introducing the Ohaus Frontier Micro 5000, FC5515, 44 x 1.5 / 2.0ml;12 x 5 ml, 21,953 g – 230V - the ultimate solution for your centrifugation needs.
With its exceptional features and functionality, this centrifuge is a game-changer in the laboratory.

Featuring a maximum capacity of 21,953 g and a readability of 44 x 1.5 / 2.0ml;12 x 5 ml, the Frontier Micro 5000 can handle a wide range of samples with precision and accuracy. Whether working with rotors compatible with 1.5/2.0ml or 5ml microtubes, spin columns, PCR strips, cryo tubes, or hematocrit capillaries, this centrifuge delivers excellent performance and versatility.

Designed with ease of operation in mind, the Frontier Micro 5000 boasts convenient controls on an intuitive interface. Even when wearing gloves, you can effortlessly navigate through the settings and make adjustments with responsive precision. Say goodbye to cumbersome operations and hello to streamlined efficiency.

One of the standout features of the Frontier Micro 5000 is its compact design. This centrifuge packs all its functionality within a small footprint, allowing you to save valuable space on your lab bench. No more cluttered workstations - enjoy a clean and organized workspace without compromising on performance.

Equipped with an LCD with backlighting and two lines of clear text, the Frontier Micro 5000 ensures easy readability and visibility of important information. You can monitor and track your centrifugation process with confidence and accuracy.

With its brushless quiet motor and multi-safety control system, this centrifuge guarantees smooth and reliable operation every time. Additionally, it offers a personal program function, allowing you to customize settings according to your specific requirements.

Incorporating the latest technology and innovative design features, the Ohaus Frontier Micro 5000, FC5515, 44 x 1.5 / 2.0ml;12 x 5 ml, 21,953 g – 230V is the perfect choice for laboratories needing a high-quality centrifuge.
Invest in this exceptional equipment and experience the difference it makes in your research and analysis processes.