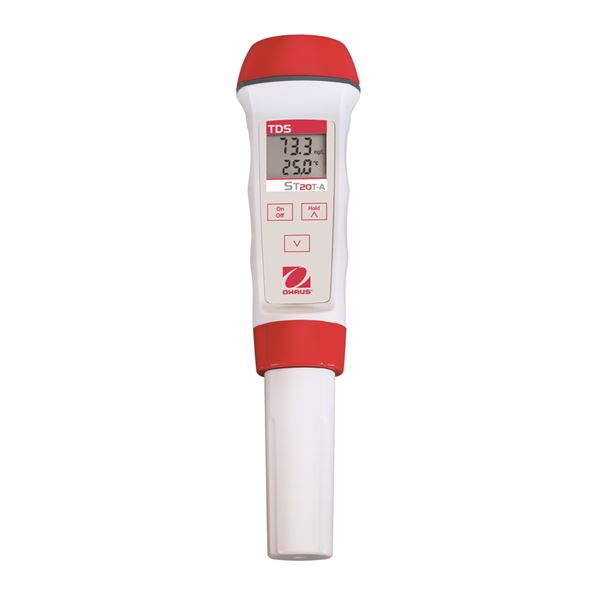 Ohaus Starter Pen Meter ST20T-A, 0.0 – 100.0 mg/L, ± 1.5% / ± 0.5 °C
Original price
$139.00
-
Original price
$139.00
Introducing the Ohaus Starter Pen Meter ST20T-A, the perfect companion for accurate and efficient measurements.
Whether you're in a laboratory setting or on the go, this small and economical pen meter is designed to provide simple, fast, and straightforward operation.

Crafted with a durable IP67 waterproof ABS housing, this pen meter can withstand rough and wet environments without compromising its performance. The protective sensor cap ensures that the sensitive components remain intact, extending the lifespan of this reliable device. Plus, with its automatic shutdown feature, you can conserve battery life and maximize usage time.

Accidents happen, but with the included wrist strap, you can prevent accidental drops and potential damage to your pen meter. Enjoy peace of mind knowing that your investment is protected.

The Ohaus Starter Pen Meter ST20T-A is a versatile tool that caters to a variety of applications. Measure pH levels, oxidation-reduction potential (ORP), conductivity, dissolved oxygen (DO), salinity, total dissolved solids (TDS), and temperature with ease and precision. The liquid crystal display (LCD) provides precise readings, and select models even offer a secondary information line for added convenience.

Powered by four 1.5V batteries (included), this pen meter is always ready for action. There is no need to worry about complicated communication setups as this device doesn't require any external connectivity.

With its user-friendly design features, such as easily replaceable electrodes and an automatic shut-off feature, the Ohaus Starter Pen Meter ST20T-A offers practicality and efficiency in one package.

Choose reliability and accuracy with Ohaus.
Whether you're in a laboratory or out in the field, this portable scale from Liberty Scales will exceed your expectations.