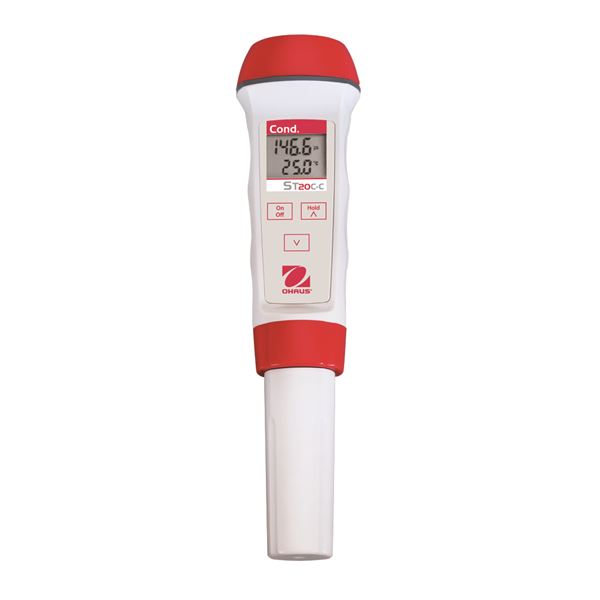 Ohaus Starter Pen Meter ST20C-C, 0.00 – 19.99 ms/cm;0.0 – 99.0 °C, ± 1.5% / ± 0.5 °C
Original price
$139.00
-
Original price
$139.00
Introducing the Ohaus Starter Pen Meter ST20C-C, the perfect companion for accurate measurements in a compact and affordable package.
Whether you're a scientist, researcher, or simply a curious individual, this pen meter offers a simple operation, making it an essential tool for any measurement task.

One of the standout features of the Ohaus Starter Pen Meter ST20C-C is its durable IP67 waterproof ABS housing. There is no need to worry about accidental spills or rough environments anymore. This pen meter can withstand water exposure without compromising its functionality. Additionally, the protective sensor cap ensures that the sensitive parts stay safe from damage when not in use.

Accidents happen, but with the included wrist strap, you can prevent any unexpected drops or mishaps. This feature adds an extra layer of security, allowing you to focus on your measurements with peace of mind.

The Ohaus Starter Pen Meter ST20C-C is a versatile tool that can handle various applications. Whether you need to measure pH levels, oxidation-reduction potential (ORP), conductivity, dissolved oxygen (DO), salinity, total dissolved solids (TDS), or temperature, this pen meter has got you covered.

Featuring a liquid crystal display (LCD) with a secondary information line on select models, reading measurements is a breeze. The clear and intuitive interface ensures that you can quickly and accurately interpret your results.

Battery life is always a concern when it comes to portable devices. However, this pen meter's automatic shutdown feature helps conserve battery power, ensuring that your device is ready whenever you need it.

With quickly replaceable electrodes, maintenance is a breeze. No need to worry about complicated procedures or expensive replacements. The Ohaus Starter Pen Meter ST20C-C is designed with convenience in mind.

Choose the Ohaus Starter Pen Meter ST20C-C and experience hassle-free measurements in any environment. Whether you're in the lab or out in the field, this pen meter delivers accurate and reliable results every time.
Don't compromise on quality; get the Ohaus Starter Pen Meter ST20C-C today.