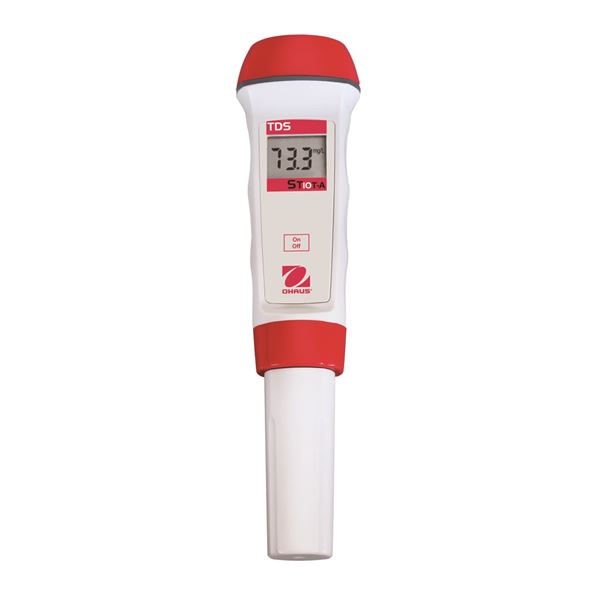 Ohaus Starter Pen Meter ST10T-A, 0.0 – 100.0 mg/L, ±2.5% FS
Original price
$107.00
-
Original price
$107.00
Introducing the Ohaus Starter Pen Meter ST10T-A, the perfect companion for those seeking a small and economical solution for accurate measurements.
This pen meter offers a simple, fast, and straightforward operation that is sure to impress.

Crafted with durable IP67 waterproof ABS housing, the Ohaus Starter Pen Meter ST10T-A is built to withstand rough and wet environments. There is no need to worry about accidental drops or damage, as this pen meter comes equipped with a convenient wrist strap for added protection.

The Ohaus Starter Pen Meter ST10T-A is a versatile tool that can measure pH, oxidation-reduction potential (ORP), conductivity, dissolved oxygen (DO), salinity, total dissolved solids (TDS), and even temperature. Its liquid crystal display (LCD) with a secondary information line (on select models) ensures clear and precise readings.

Powered by four 1.5V batteries (included), this pen meter is designed to conserve battery life with its automatic shutdown feature. Plus, the easily replaceable electrodes make maintenance a breeze, ensuring longevity and accuracy in your measurements.

Whether you're conducting experiments in the lab or need a reliable tool for water quality testing in the field, the Ohaus Starter Pen Meter ST10T-A is an excellent choice. With its compact size and user-friendly interface, it's perfect for professionals and enthusiasts alike.

Invest in the Ohaus Starter Pen Meter ST10T-A today and experience the convenience and precision it brings to your scientific endeavors.
Don't settle for anything less than exceptional quality from Liberty Scales - your trusted provider of portable scales and laboratory balances.