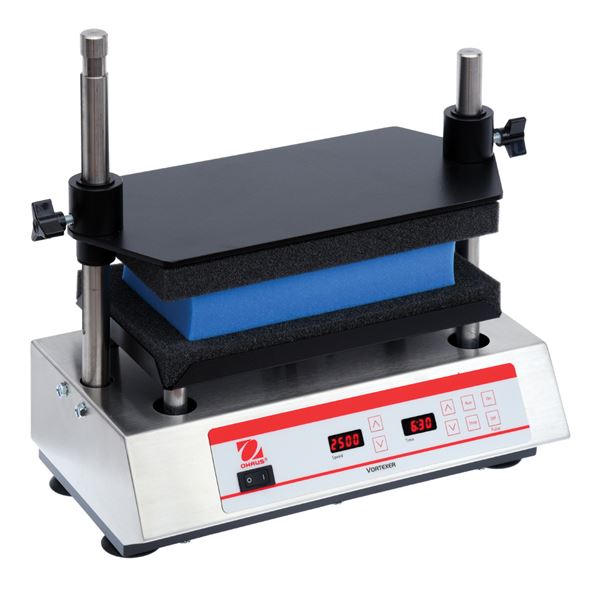 Ohaus Multi-Tube Vortex Mixers VXMTDG. 9.92 lbs - 120V
Original price
$4,170.00
-
Original price
$4,170.00
The Ohaus Multi-Tube Vortex Mixer VXMTDG is a versatile and efficient tool designed to simplify your sample processing.
With the ability to handle up to 50 samples simultaneously, this mixer provides a customizable solution for your application. Whether you need to mix suspensions, perform genotyping, or conduct high throughput DNA and RNA testing in clinical labs, the Multi-Tube Vortex Mixer has got you covered.

Featuring a choice between an easy-to-clean one-piece stainless steel housing or a painted steel version for a more economical option, this mixer caters to your preferences without compromising on quality. The stainless steel foam rack, capable of accommodating 50 tubes with a diameter of 12mm, is included with the mixer. Additionally, interchangeable foam racks accommodate lines ranging from 10mm to 29mm in diameter.

For those dealing with challenging samples, the programmable pulse mode on the digital models comes to the rescue. By adjusting the pulse-on/pulse-off time interval, users can create a more vigorous mix and enhance the vortex action. This customizable feature ensures optimal performance even with the most challenging samples.

The Multi-Tube Vortex Mixer boasts independent LED displays for speed and time, allowing operators to monitor both settings simultaneously on the digital models. This user-friendly design facilitates precise control and ensures accurate results every time.

With its detachable 3-wire cord and plug included, this vortex mixer offers convenient portability and easy setup. Whether you're working in a clean room or require a more cost-effective option, the Multi-Tube Vortex Mixer VXMTDG is built to meet your requirements.

Choose Ohaus for reliable and efficient laboratory equipment. Order your Multi-Tube Vortex Mixer today and experience the difference it makes in your sample processing workflow.