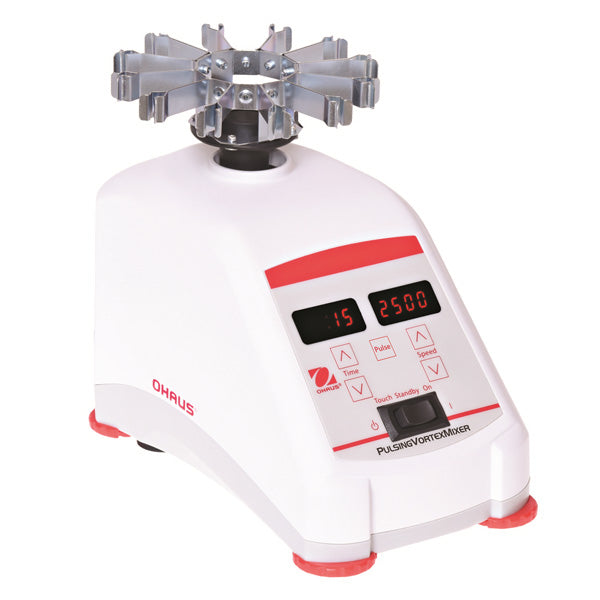 Ohaus Mini Vortex Mixers VXMNPS. 9.7 lbs - 120V
Original price
$605.00
-
Original price
$605.00
Introducing the Ohaus Mini Vortex Mixers VXMNPS, a powerful and reliable solution for all your mixing needs.
With its touch mode operation and sturdy design, this mixer is designed to provide efficient and hassle-free mixing.

Whether you need gentle shaking or vigorous vortexing, the Ohaus Mini Vortex Mixers VXMNPS offers effective speed control, allowing you to achieve the desired mixing intensity. Its robust construction ensures that the unit stays firmly in place during operation, providing stability and reliability.

Perfect for a wide range of applications, this mixer excels at re-suspending liquids, mixing reagents, buffers, emulsions, ELISA assays, drug extractions, and mixing samples. With its versatility, it is a valuable addition to any laboratory or workspace.

The Ohaus Mini Vortex Mixers VXMNPS features independent LED displays for speed and time settings, providing clear visibility for precise adjustments. The digital models offer microprocessor control to maintain a consistent mixing action at the set speed. Meanwhile, the analog models feature an adjustment knob with dial markings for easy variable speed control.

For added convenience, this mixer comes with a detachable 3-wire cord and plug included. The cup head and 3-inch accessory platform are also included with all models, allowing you to mix in beakers, flasks, test tubes, and more. The pulsing models even come with a stainless steel microtube holder for 12 lines.

With its maximum speed of 2500 rpm (230V models), the Ohaus Mini Vortex Mixers VXMNPS delivers high-performance mixing every time. Its rugged design and efficient operation make it the ideal choice for laboratories, research facilities, and other settings where reliable mixing is essential.

Choose the Ohaus Mini Vortex Mixers VXMNPS and experience powerful mixing capabilities with ease.
Trust in its quality craftsmanship and innovative features to enhance your workflow and achieve consistent results.