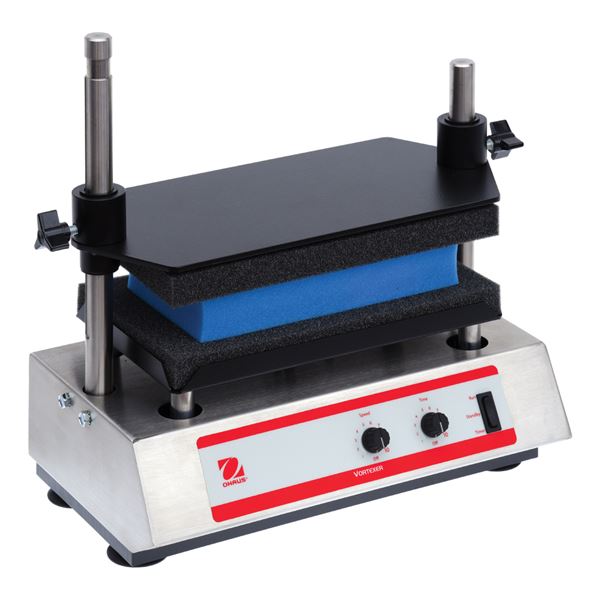 Ohaus Multi-Tube Vortex Mixers VXMTALB. 9.92 lbs - 120V
Original price
$3,030.00
-
Original price
$3,030.00
Introducing the Ohaus Multi-Tube Vortex Mixers VXMTALB, a versatile and efficient solution for processing up to 50 samples simultaneously.
With its customizable features and robust construction, this mixer is a must-have for any laboratory or clean room environment.

Designed conveniently, the Multi-Tube Vortex Mixer can be tailored to suit your specific application. Choose from six tube racks and a post-extension kit to create a setup that perfectly meets your needs. Whether you're working with suspensions, conducting genotyping tests, or performing high throughput DNA and RNA testing in clinical labs, this mixer has got you covered.

You can select the easy-to-clean one-piece stainless steel housing, ideal for clean rooms, or the painted steel version for a more economical choice. Whichever model you choose, rest assured that you'll have a sturdy and reliable vortex mixer.

For those challenging samples that require extra mixing power, the digital models feature a programmable pulse mode. By adjusting the pulse-on/pulse-off time interval, you can enhance vortex action and achieve a more vigorous mix. This level of customization allows you to optimize operations according to your specific requirements.

Operating the Multi-Tube Vortex Mixer is a breeze thanks to the independent LED displays for speed and time. The dual display feature lets you view both settings simultaneously, ensuring precise control over your mixing process. The mixer also has a detachable 3-wire cord and plug for added convenience.

Included with the mixer is a stainless steel foam rack that can accommodate up to 50 tubes with a diameter of 12 mm. Additionally, interchangeable foam racks are available for vortexing tubes ranging from 10 - 29 mm diameter. This versatility makes it easy to adapt the mixer to different sample sizes.

Experience efficient and reliable sample processing with the Ohaus Multi-Tube Vortex Mixers VXMTALB.
Invest in this powerful tool today and take your laboratory work to new heights.