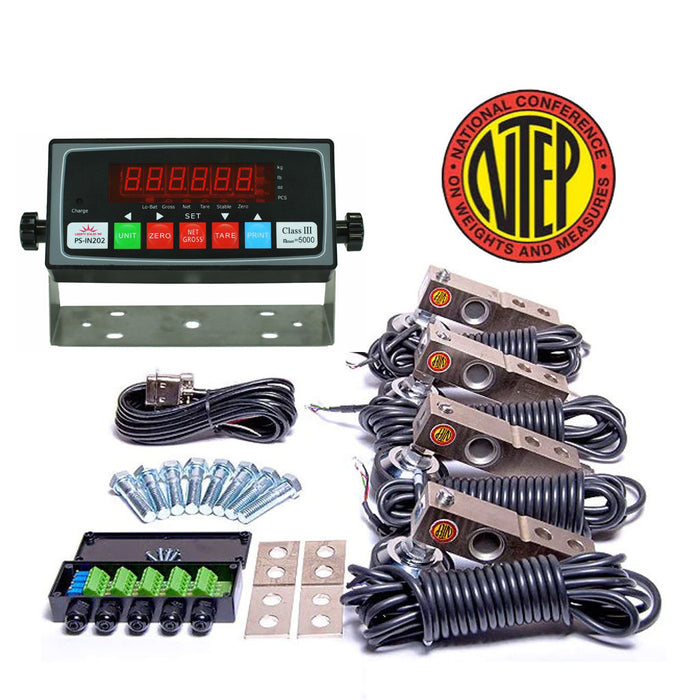 Liberty LS-WK weighing kit (NTEP) Legal for trade / Full kit
Original price
$499.00
-
Original price
$699.00
Introducing the Liberty LS-WK Weighing Kit (NTEP) Legal for Trade/Full Kit - the ultimate solution for all your weighing needs!
This remarkable kit, certified by NTEP (legal for trade), includes everything you require to transform any object into a precision scale.
Key Features:
With the PS-IN202 indicator at its core, this kit boasts an impressive weight handling capacity ranging from 1,000 lbs to 10,000 lbs. No matter the size or weight of your objects, this weighing kit has got you covered.
Choose from a variety of calibration options to suit your specific requirements. Opt for the 1000 lb Capacity x .2 lb Accuracy for those delicate measurements, or go for the 2500 lb Capacity x .5 lb Accuracy if you need more precision. For heavier loads, the 5000 lb Capacity x 1 lb Accuracy and 10,000 lb Capacity x 1 lb Accuracy options provide exceptional accuracy and reliability.
Featuring shear beam load cells with one end fixed, this kit guarantees accurate and consistent weighing results. Made from high-quality alloy or stainless steel, you can rest assured that durability is never compromised.
The self-centering feature ensures easy installation and hassle-free operation, making it perfect for professional and personal use.
Whether in manufacturing, logistics, or any industry requiring precise measurements, the Liberty LS-WK Weighing Kit is your trusted companion.
Say goodbye to guesswork and hello to accurate measurements with this state-of-the-art shear beam single-ended load cell kit.
Specifications:
With its exceptional load cell specifications, the Liberty LS-WK delivers unparalleled performance. The rated output of 3.00±0.015 mV/V ensures precise readings, while the nonlinearity of ±0.02%FS guarantees accuracy even at higher weights. Say goodbye to guesswork and hello to reliable results.
Thanks to its impressive features, this weighing kit surpasses expectations. The hysteresis of ±0.02%FS ensures consistent measurements, while the repeatability of ±0.01%FS guarantees accuracy every time. Plus, with a creep of only ±0.02%FS over 30 minutes, you can trust that your readings will remain stable throughout your weighing process.
Temperature fluctuations are no match for the Liberty LS-WK. With a temperature effect of zero and output of just ±0.02%FS/10°C, this weighing kit maintains precision even in varying environments. Whether you're working in a hot warehouse or a chilly laboratory, this kit will deliver accurate results without any compromises.
Durability is also a vital feature of the Liberty LS-WK Weighing Kit. With a safe overload capacity of 120%FS, you can confidently weigh heavy items without worrying about damaging the equipment. The kit also comes with a 5.4x6 m cable, providing flexibility and convenience during your weighing tasks.
Experience the convenience and reliability of Liberty Scales' revolutionary weighing solutions. Get the LS-WK Weighing Kit today and take your weighing capabilities to new heights!
Shipping Policy:

We offer free shipping for business addresses within the contiguous 48 states. For residential delivery, a small additional fee of $100 applies. Lift gate services are also available for easy unloading, with an optional $50 charge if no forklift is available. People from Hawaii & Alaska can Contact us for personalized Shipping Quotes. Your satisfaction is our Top Priority! Kindly provide your contact number and company name for business purchases.