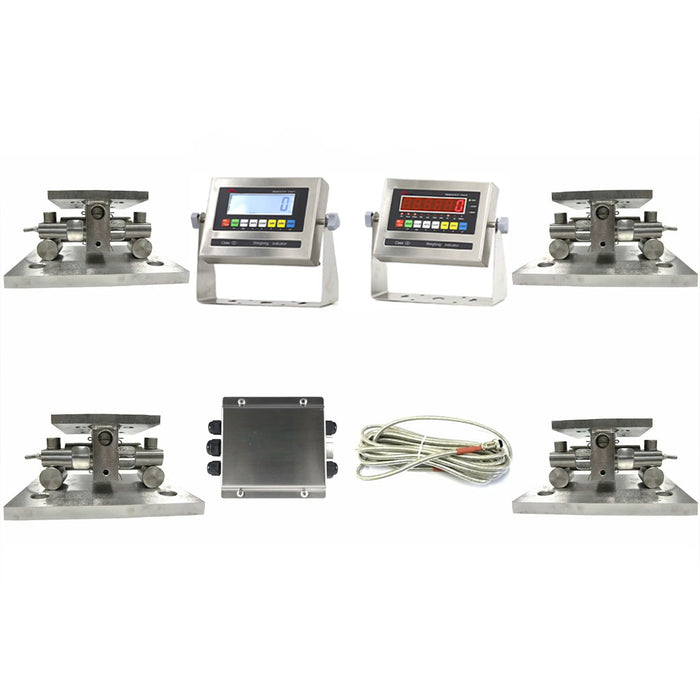 Liberty LS-320-TM Load cell Conversion kit weigh module for Scale Tank, Hoppers ( Circular Motion )
Original price
$4,949.99
-
Original price
$19,799.99
Introducing the Liberty LS-320-TM Load Cell Conversion Kit, the ultimate solution for transforming tanks, hoppers, vessels, machinery, mixers, and more into efficient and accurate scale units.
With this innovative kit, you can revolutionize your weighing processes and streamline your operations like never before.
Key Features:
Designed specifically for circular and linear movement applications, the LS-320-TM Load Cell Conversion Kit is a game-changer in the world of weighing technology. This double-ended beam load cell conversion kit offers unparalleled precision and reliability, ensuring accurate measurements every time.
With Liberty Scales, you can trust that you're investing in quality. The load cells are expertly mounted to the feet or bottom of the platform, providing maximum stability and durability. Say goodbye to guesswork and hello to precise weighing results.
But that's not all – when you choose the LS-320-TM Load Cell Conversion Kit, you also receive a range of additional components to enhance your weighing experience. The package includes the LS-7510-SS Stainless Steel Indicator, a charger for uninterrupted power supply, a connection cable for seamless integration, and a Stainless Steel junction box with a 4-channel summing card for convenient data management.
Whether in the manufacturing industry or with bulk materials, the Liberty LS-320-TM Load Cell Conversion Kit is a must-have addition to your operations. Experience the efficiency, accuracy, and reliability only Liberty Scales can deliver.
The double-ended load cells made from plated alloy steel are at the heart of this conversion kit. These load cells are not only durable but also capable of handling heavy loads with ease. Their stabilizer mounts offer increased stability and ensure accurate weight readings every time.
The stainless steel LCD or LED indicator provides clear and easy-to-read measurements, allowing for quick and efficient monitoring. Whether you prefer a traditional LCD or a modern LED display, this conversion kit covers you.
To further enhance its durability and longevity, the Liberty LS-320-TM comes with a stainless steel junction box. This 4-channel junction box ensures reliable connections between the load cells and the indicator, minimizing potential signal interference.
With its IP67-rated alloy steel mounts, this conversion kit is built to withstand harsh environments. Whether dust, water, or other external factors, these mounts ensure the load cells remain protected and reliable.
We understand the importance of investing in quality equipment, so we offer a 5-year warranty on our Liberty LS-320-TM Load Cell Conversion Kit. Knowing your purchase is protected against manufacturing defects or malfunctions, you can have peace of mind.
Upgrade your weighing system today with the Liberty LS-320-TM Load Cell Conversion Kit Weigh Module for Scale Tanks and Hoppers. Experience accurate measurements, superior durability, and unmatched performance in one comprehensive package.
Shipping Policy:

We offer free shipping for business addresses within the contiguous 48 states. For residential delivery, a small additional fee of $100 applies. Lift gate services are also available for easy unloading, with an optional $50 charge if no forklift is available. People from Hawaii & Alaska can Contact us for personalized Shipping Quotes. Your satisfaction is our Top Priority! Kindly provide your contact number and company name for business purchases.
Trust Liberty Scales for all your weighing needs.