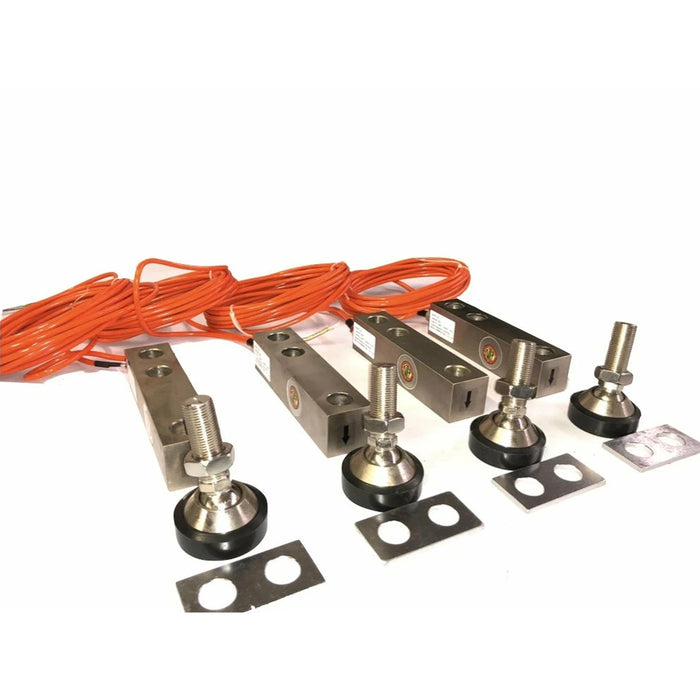 Liberty GX-1-5k lb (Large Envelope) NTEP Shear Beam Load Cell Sensors for Platform Floor Scale with Feet & Spacers
Original price
$598.99
-
Original price
$748.99
Introducing the Liberty GX-1-5k lb (Large Envelope) NTEP Shear Beam Load Cell Sensors for Platform Floor Scale.
If you require NTEP-approved load cells for your floor scale, then look no further. These load cells are specifically designed to ensure your scale meets all necessary standards for trade accuracy.

When it comes to NTEP floor scales, matching load cells are essential. Your scale will calibrate properly with all four load cells being identical. That's why the Liberty GX-1-5k lb load cells are the perfect choice. With four NTEP load cells, these sensors guarantee accurate and reliable measurements for legal-for-trade applications.

Each load cell in this set has a maximum weight capacity of 5000 lbs, making them ideal for heavy-duty tasks. Whether you're weighing large quantities of materials in hoppers or using floor scales for industrial purposes, these load cells can handle it all. Their robust construction ensures durability and longevity even under demanding conditions.

To achieve optimal calibration settings, here are the recommended weight increments:

1000 lbs x .2 lb

2500 lbs x .5 lb

5000 lbs x 1 lb

10,000 lbs x 2 lb

20,000 lbs x 5 lb
With the Liberty GX-1-5k lb load cells, you can rest assured that your measurements will be precise and accurate every time. The large envelope design allows for easy installation and compatibility with various platform floor scales.
Key Features:
Crafted with precision and expertise, the Liberty GX-1-5k lb Load Cell Sensors are designed to provide exceptional performance. Whether you choose the alloy or stainless steel option, rest assured that you invest in a durable and long-lasting solution for your weighing needs.
Installation is a breeze with the Liberty GX-1-5k lb Load Cell Sensors. They have a user-friendly design, allowing easy installation and seamless integration into your platform floor scale. Say goodbye to complicated setup processes and hello to effortless operation.
The shear beam single-ended load cell technology in these sensors ensures optimal weight distribution, eliminating any chances of inaccurate readings. Enjoy peace of mind, knowing your measurements will always be precise and dependable.
Compatible with Liberty scales and other compatible platforms, the Liberty GX-1-5k lb Load Cell Sensors offer versatility and convenience. Whether weighing heavy materials in an industrial setting or ensuring accurate measurements in a retail environment, these sensors are up to the task.
Specifications:
With a rated output of 3.00±0.015 mV/V, these load cell sensors offer exceptional sensitivity and responsiveness. The nonlinearity of ±0.02%FS ensures that the measurements remain within a small margin of error, guaranteeing precise readings every time. Additionally, the hysteresis and repeatability of ±0.02%FS contribute to these sensors' overall accuracy and reliability.

One of the standout features of the Liberty GX-1-5k lb load cell sensors is their temperature stability. With a temperature effect of zero and output of ±0.02%FS/10°C, these sensors can withstand varying environmental conditions without compromising accuracy. Whether it's a scorching summer day or a freezing winter night, you can rely on these load cell sensors to deliver consistent and accurate weight measurements.

Installation is a breeze with the Liberty GX-1-5k lb load cell sensors. They come equipped with an input resistance of 385±5Ω and an output resistance of 350±3Ω, ensuring seamless integration into your existing platform floor scale system. The insulation resistance of ≥5000MΩ provides added durability and protection against electrical interference.

These load cell sensors are built to last, with a safe overload capacity of 120%FS. This means that even under extreme conditions, these sensors will maintain their structural integrity and continue to provide accurate measurements.

The Liberty GX-1-5k lb (Large Envelope) NTEP Shear Beam Load Cell Sensors also come with a 5.4x6 m cable, offering flexibility in installation and positioning.
Invest in the Liberty GX-1-5k lb load cell sensors and experience the pinnacle of precision and reliability in weight measurement technology. Whether for industrial applications or commercial use, these load cell sensors will exceed your expectations and give you the peace of mind you deserve.
Shipping Policy:

We offer free shipping for business addresses within the contiguous 48 states. For residential delivery, a small additional fee of $100 applies. Lift gate services are also available for easy unloading, with an optional $50 charge if no forklift is available. People from Hawaii & Alaska can Contact us for personalized Shipping Quotes. Your satisfaction is our Top Priority! Kindly provide your contact number and company name for business purchases.
Choose Liberty scales for unparalleled accuracy and performance.