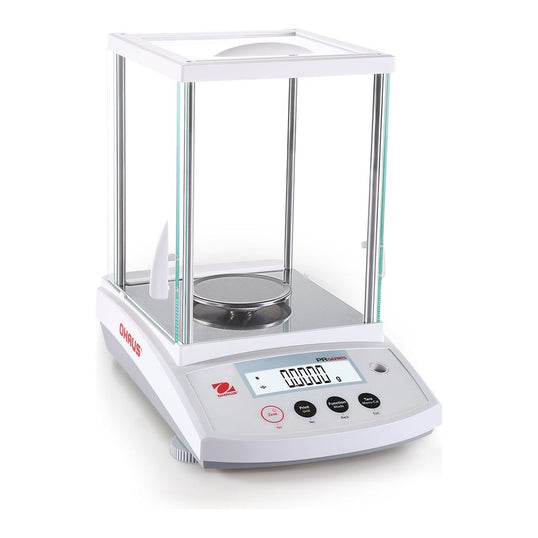 Ohaus 3.5" PR Series Analytical Balances PR124 120gx0.0001g
Original price
$2,240.00
-
Original price
$2,240.00
Introducing the Ohaus 3.5" PR Series Analytical Balances PR124, a reliable and efficient weighing solution for laboratory, industrial, and educational environments.
With a maximum capacity of 120g and a readability of 0.0001g, this analytical balance is designed to deliver accurate and precise results.
The PR124 is packed with features that enhance its functionality and usability. Its RS232 connectivity allows easy data transfer and storage, simplifying your workflow. The backlit liquid crystal display ensures clear visibility of measurements, even in low-light conditions. With a user-friendly interface, operating the PR124 requires minimal training, saving you valuable time.

Thanks to its three essential weighing modes, this analytical balance is perfect for routine weighing applications. The internal calibration (available in select models) ensures consistent accuracy, eliminating the need for external calibration equipment. Whether you're conducting experiments or analyzing samples, the PR124 provides reliable results every time.

Not only does the PR124 excel in performance but it also boasts a compact design that saves precious desktop space without compromising the size of the weighing surface. The durable construction and stainless steel pan make it suitable for daily use in demanding work environments.

The Ohaus PR Series Analytical Balances are renowned for their exceptional quality and competitive pricing. Backed by Liberty Scales' commitment to customer satisfaction, this analytical balance is a wise investment for any laboratory or industrial facility.

Choose the Ohaus 3.5" PR Series Analytical Balances PR124 for accurate measurements, reliable performance, and unparalleled value. Experience the precision and convenience that Ohaus is known for.