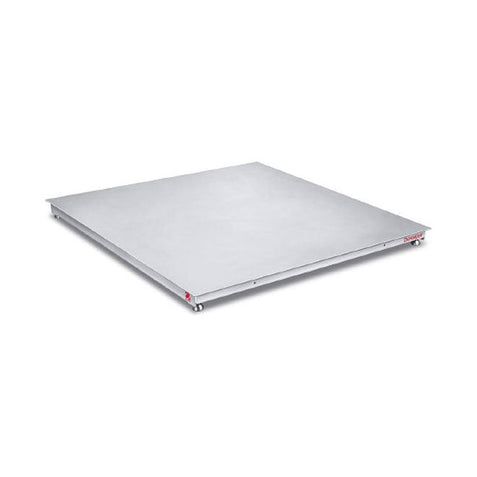 Ohaus 48"x 48" DEFENDER™ 3000 Washdown Floor Platforms i-DF5000C1L 5,000 lb x 1 lb
Original price
$4,225.00
-
Original price
$4,225.00
Introducing the Ohaus 48"x 48" DEFENDER™ 3000 Washdown Floor Platforms i-DF5000C1L.
This rugged and reliable platform is designed to meet all your weighing needs with precision and efficiency.

Constructed with painted carbon steel, this platform features a raised treaded surface that ensures a secure grip for your items. The 5mm thick fixed top plate, combined with structural bracing, guarantees a stiff and solid construction that can withstand heavy loads. With four IP67 alloy steel load cells, you can trust in the accuracy and durability of this platform.

The DEFENDER™ 3000 series offers six different models, providing various platform sizes ranging from 1 x 1 m to 1.5 x 1.5 m. Whether you need to weigh small or large items, this platform offers the flexibility to meet your requirements. Capacities range from 600 kg to an impressive 3000 kg.

One of the standout features of this platform is the 5m double-shielded EasyConnect™ cable. This innovative cable allows instant configuration with Defender indicators, ensuring quick and hassle-free installation. Say goodbye to complicated setup processes and hello to efficiency.

With its robust construction and advanced design features, this platform offers exceptional performance and reliability. It comes equipped with 125% overload protection for added peace of mind, along with load cell-mounted feet featuring a self-swiveling ball-in-cup design for accurate and stable weighing.

In addition, the DEFENDER™ 3000 Washdown Floor Platform is compatible with painted and stainless steel floor stands (available as accessories), providing you with even more versatility and convenience.

Whether you need a portable scale for your laboratory or a reliable weighing solution for industrial applications, the Ohaus DEFENDER™ 3000 Washdown Floor Platform i-DF5000C1L is the perfect choice.
Experience the precision, durability, and flexibility it offers and take your weighing tasks to the next level.