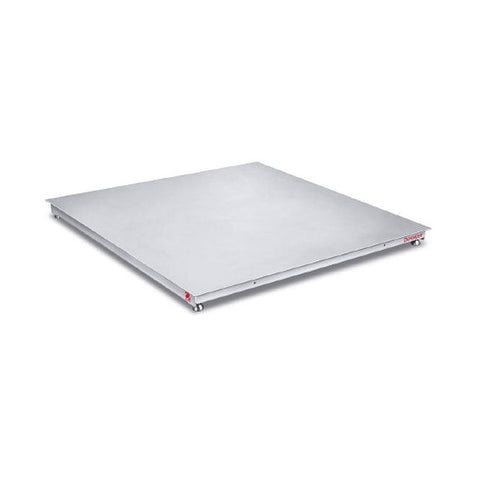 Ohaus 48"x 48" DEFENDER™ 3000 Washdown Floor Platforms i-DF2500C1L 2,500 lb x 0.5 lb
Original price
$4,225.00
-
Original price
$4,225.00
Introducing the Ohaus 48"x 48" DEFENDER™ 3000 Washdown Floor Platforms i-DF2500C1L, a durable and versatile weighing solution that exceeds expectations.
With its painted carbon steel construction and raised treaded surface, this platform offers both strength and stability for all your weighing needs.

Equipped with four IP67 alloy steel load cells and a fixed top plate that is 5mm thick, the DEFENDER™ 3000 ensures accurate and reliable measurements. Its structural bracing guarantees a stiff and solid construction, making it a reliable choice for heavy-duty applications.

What sets the DEFENDER™ 3000 apart is its range of options to suit your specific requirements. With six models available, ranging from platform sizes of 1 x 1 m, 1.25 x 1.25 m, and 1.5 x 1.5 m, and capacities from 600 kg to 3000 kg, you can choose the perfect fit for your weighing tasks.

Installation is a breeze with the included 5m double-shielded EasyConnect™ cable. This innovative feature allows instant configuration with Defender indicators, saving time and effort.

Built to withstand demanding environments, the DEFENDER™ 3000 features a black treaded painted steel platform and an IP65 stainless steel junction box with side access. The four IP67 OIML R60 alloy steel load cells ensure accurate measurements while providing overload protection up to 125%. For added convenience, two carbon steel eye bolts are included, along with the option of adding a painted steel ramp.

Enhance your weighing experience with the DEFENDER™ 3000's design features. The four load cell mounted feet feature a self-swiveling ball-in-cup design, allowing easy movement and positioning. Additionally, painted and stainless steel floor stands are available as accessories to customize your setup further.

Whether in a laboratory, warehouse, or industrial setting, the Ohaus 48"x 48" DEFENDER™ 3000 Washdown Floor Platforms i-DF2500C1L is the ultimate weighing solution. Trust its durability, precision, and versatility to meet all your weighing needs.
Experience the liberty of accurate measurements with this portable scale from Ohaus.