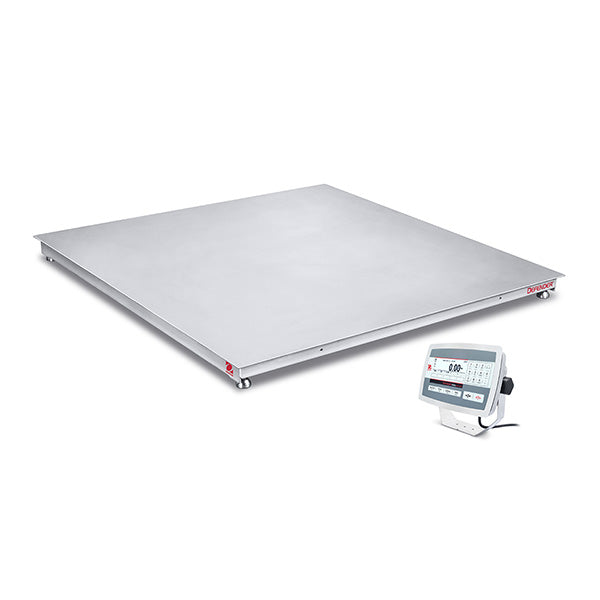 Ohaus 36"x 36" Washdown Floor Scales i-DF52XW2500C1R 2,500 lb x 0.5 lb
Original price
$5,120.00
-
Original price
$5,120.00
Introducing the Ohaus 36"x 36" Washdown Floor Scale i-DF52XW2500C1R 2,500 lb x 0.5 lb, the ultimate solution for your weighing needs.
With its advanced features and durable construction, this scale ensures accurate measurements every time.

Equipped with the new TD52 series indicator, this floor scale offers an easy-to-use keypad and a large backlit display. The plain text on-screen prompts guide you through the operation, making it effortless to use even for beginners. Say goodbye to complicated processes and hello to simplicity.

Featuring four IP68 electro-polished stainless steel load cells that are laser-weld, hermetically sealed, and OIML-approved, this floor scale guarantees precision and reliability. No more worrying about inaccurate readings or unstable measurements. You can trust that this scale will deliver accurate results every single time.

The combination floor-pit mount design provides versatility, allowing you to place the scale either above or below ground. Whether you need a portable option or a stationary installation, this floor scale has got you covered.

This Ohaus Defender 5000 Series Floor Scale is not just limited to weighing. It also offers additional functions such as parts counting, percent weighing, checkweighing, and dynamic weighing with display hold capabilities. This versatility makes it suitable for various applications in industries such as manufacturing, warehousing, and logistics.

With its backlit liquid crystal display (LCD) featuring 256 x 80 pixels, reading measurements is a breeze even in low-light conditions. The internal power supply with a power cord included ensures uninterrupted operation, but you also have the option to use a rechargeable battery (sold separately) for added convenience.

Communication is made easy with the accessible communication ports including RS232 and Micro SD slot (included). Additionally, you have the option to add accessories such as a second RS232/RS485/USD device, Ethernet and WiFi/Bluetooth, Discrete I/O, and Analog Output for enhanced connectivity. The scale also offers GLP/GMP data output with a real-time clock for seamless data management.

Constructed with a stainless steel indicator and bead-blasted stainless steel platform, this floor scale is built to withstand rugged environments. The IP67 stainless steel junction box with top access and IP68 OIML R60 electro-polished stainless steel load cells ensure durability and longevity.

Designed with user convenience in mind, this floor scale features structural channel bracing and pendulum design feet with removable rubber caps for easy maintenance. It also provides 150% overload protection to prevent any damage caused by excessive weight.

With its selectable operating languages, stability indicator, auto-dim display, and multiple adjustable settings, this floor scale offers a personalized user experience. You can customize it to suit your preferences and requirements.

In summary, the Ohaus 36"x 36" Washdown Floor Scale i-DF52XW2500C1R 2,500 lb x 0.5 lb is the perfect combination of accuracy, durability, and versatility. Whether you need it for weighing, parts counting, or checkweighing, this scale will exceed your expectations.
Invest in this reliable and efficient scale today and experience the difference it makes in your operations.