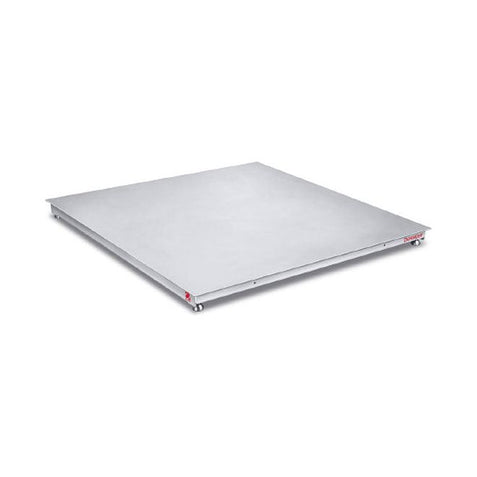 Ohaus 36"x 36" DEFENDER™ 3000 Washdown Floor Platforms i-DF2500C1R 2,500 lb x 0.5 lb
Original price
$3,600.00
-
Original price
$3,600.00
Introducing the Ohaus 36"x 36" DEFENDER™ 3000 Washdown Floor Platform i-DF2500C1R 2,500 lb x 0.5 lb, a reliable and sturdy weighing solution for your industrial needs.

Designed with precision in mind, this platform features a painted carbon steel construction with a raised treaded surface. This not only ensures durability but also provides a solid grip for accurate weighing. The 5mm thick fixed top plate, combined with structural bracing, guarantees a stiff and sturdy construction that can withstand heavy loads.

The Defender 3000 series offers versatility with six different models to choose from. Whether you require a platform size of 1 x 1 m, 1.25 x 1.25 m, or 1.5 x 1.5 m, or capacities ranging from 600 kg to 3000 kg, these platforms have covered you. This flexibility allows you to find the perfect fit for your weighing needs.

Installation is a breeze thanks to the included 5m double-shielded EasyConnect™ cable. This innovative feature enables instant configuration with Defender indicators, ensuring a quick and hassle-free setup.

With its robust construction and reliable performance, this platform is built to last. The black treaded painted steel platform is complemented by an IP65 stainless steel junction box with side access, protecting harsh environments.

The Ohaus DEFENDER™ 3000 Washdown Floor Platform incorporates several design features for enhanced functionality. It boasts a four load cell-mounted feet with a self-swiveling ball-in-cup design, allowing for smooth and accurate readings. Additionally, the platform is equipped with 125% overload protection to safeguard against excessive weight.

For added convenience, painted and stainless steel floor stands are available as accessories to elevate the platform to your desired height.

Invest in the Ohaus DEFENDER™ 3000 Washdown Floor Platform i-DF2500C1R 2,500 lb x 0.5 lb and experience reliable and precise weighing like never before.
Choose a platform that can keep up with your industrial demands.