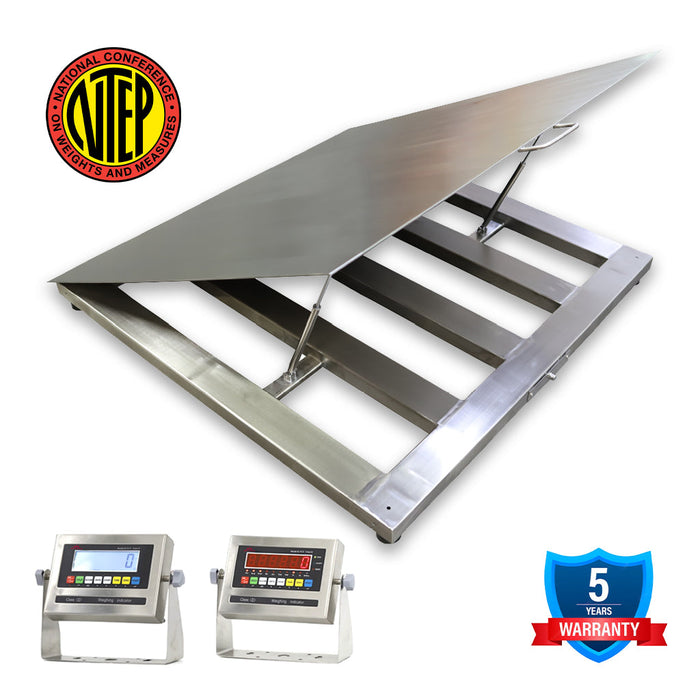 Liberty LS-800-SS-LT-4X4 NTEP Certified (Legal For Trade) Lift Up Washdown Floor Scale | 48" x 48" | Capacity of 1,000 lbs, 2,500 lbs, 5,000 lbs, 10,000 lbs & 20,000lbs
Original price
$2,999.00
-
Original price
$3,498.00
Introducing the Liberty LS-800-SS-LT-4X4 NTEP Certified (Legal For Trade) Lift Up Washdown Floor Scale, a heavy-duty stainless steel scale built to deliver precision and durability in every weighing task.

Key Features:
Measuring a generous 48" x 48" size, this scale provides ample space for weighing various items, making it perfect for industrial and commercial applications.
Its robust stainless steel construction ensures long-lasting performance even in harsh environments.
One of the standout features of this scale is its NTEP Washdown lift-up design. Whether you need to clean the scale pit or perform maintenance tasks, the lift-up platform allows easy access, saving you time and effort.
The diamond-plated or smooth top platform provides a slip-resistant surface, ensuring safety during weighing procedures.
Equipped with stainless steel gas spring shocks, this floor scale offers smooth and controlled lifting of the heavy-duty deck. Say goodbye to backaches and strain as you raise the platform for thorough washdown cleaning.
The Liberty LS-800-SS-LT-4X4 comes with the LS-7510 stainless steel indicator, featuring lb/kg measurements and an optional rechargeable battery for portable operation.
With its built-in RS-232 communication port and a 20' long heavy-duty metal shielded cable, this scale allows seamless data transfer to your computer system.
Rest assured that accuracy is guaranteed with the factory calibration and overload protection feature. The scale is ready to use immediately, saving you time on tedious setup procedures.
Plus, with its impressive 5-year warranty, you can know that your investment is protected.
Shipping Policy:
We offer free shipping for business addresses within the contiguous 48 states. For residential delivery, a small additional fee of $100 applies. Lift gate services are also available for easy unloading, with an optional $50 charge if no forklift is available. People from Hawaii & Alaska can Contact us for personalized Shipping Quotes. Your satisfaction is our Top Priority! Kindly provide your contact number and company name for business purchases.
Upgrade your weighing operations with the Liberty LS-800-SS-LT-4X4 NTEP Certified Lift Up Washdown Floor Scale. Combining rugged construction, convenient features, and accurate measurements, this stainless steel floor scale is your reliable partner for efficient and precise weighing tasks.