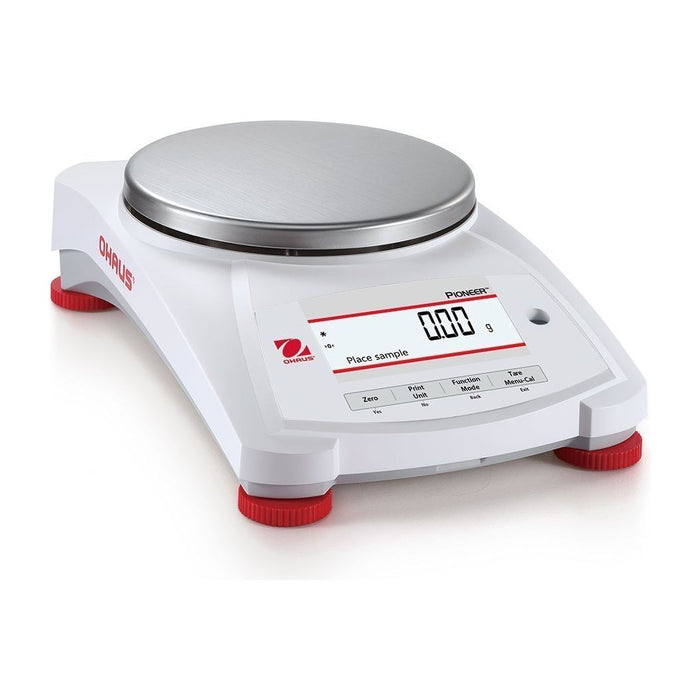 Ohaus Pioneer™ Precision PX4201/E, Stainless Steel, 4200g x 0.1g
Original price
$1,278.00
-
Original price
$1,278.00
The Ohaus Pioneer™ Precision PX4201/E is the perfect weighing solution for laboratory, industrial, and education settings.
With a maximum capacity of 4,200g and a readability of 0.1g, this precision balance offers high accuracy and repeatability at an affordable price point.

Durability is critical when weighing instruments, and the PX4201/E does not disappoint. Its cast metal lower housing, sub-pan, and stainless steel weighing pan ensure long-term use without compromising performance. This balance is built to withstand the demands of everyday weighing tasks.

One of the standout features of the Pioneer PX4201/E is its second-line display. This additional display provides users extra information or guidance, making weighing tasks even more efficient. Additionally, the balance is equipped with a static removal bar for convenient grounding and USB connectivity for seamless data transfer.

The design of the PX4201/E combines economy and high performance. It features a metal base, plastic top housing, removable stainless steel pan, glass draft shield, Real Time Clock with GLP/GMP Data integration, weigh-below-hook, security bracket, calibration lock, and in-use cover. The balance also offers user-selectable environmental filters and brightness settings for personalized usage.

Operating the PX4201/E is simple and hassle-free. It comes with a power adapter for easy power supply. The balance also offers a range of useful functions such as auto-tare, auto-dim, user-selectable span calibration points, overload indicator, software lockout, and reset menu. It also has user-selectable communication settings and data print options for convenience.

In conclusion, the Ohaus Pioneer™ Precision PX4201/E is a reliable and versatile precision balance that delivers accurate results consistently. Whether working in a laboratory, industrial, or educational environment, this balance is designed to meet your weighing needs with precision and efficiency.