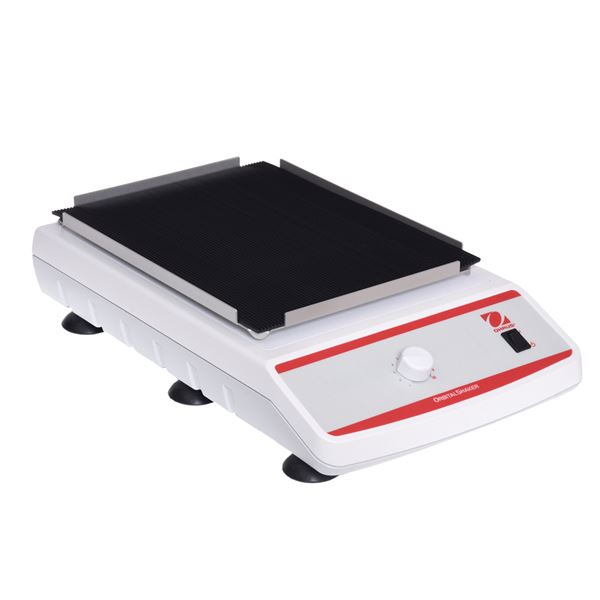 Ohaus, Light Duty Orbital Shakers SHLD0415AL, 7.94 lbs - 120V
Original price
$1,325.00
-
Original price
$1,325.00
Introducing the Ohaus Light Duty Orbital Shaker SHLD0415AL, a versatile and reliable solution for all your laboratory shaking needs.
With a maximum capacity of 3.6 kg, this shaker is designed to provide flexibility and convenience for various applications.

Featuring a ready-to-use tray and mat, the Ohaus Light Duty Shaker allows you to start your experiments right away. However, if you prefer customization, remove the mat and use over 20 easy-to-install accessories to tailor the tray to your specific requirements. This adaptability ensures that the shaker can accommodate a wide range of tasks in your laboratory.

Regarding performance, the Ohaus Light Duty Shaker excels as an economical choice. The non-digital model incorporates a robust triple eccentric drive design that guarantees reliable shaking at any speed. Whether you are conducting ELISA assays, cell cultures, or protein studies, this shaker delivers consistent and precise results.

The microplate shaker is designed to securely hold up to four microplates or deep well plates. Alternatively, you can easily install two microtube racks for added versatility. With a gradual increase in speed to your desired setpoint, splashing is minimized, ensuring smooth and efficient operation.

Operating the Ohaus Light Duty Shaker is straightforward. Digital models feature easy-to-read LED displays for speed and time settings, allowing you to monitor all parameters simultaneously. Analog models offer essential control knobs with dial markings for speed and time adjustments. Additionally, the shaker comes with a detachable 3-wire cord and plug for convenience.

Constructed from durable cast aluminum, the Ohaus Light Duty Shaker is built to last. It also includes a non-slip mat (11.75 x 8.75 inches or 29.9 x 22.2 cm) with all models except the Microplate Shaker, ensuring stability during operation.

Choose the Ohaus Light Duty Orbital Shaker SHLD0415AL for a reliable, flexible, and cost-effective solution to meet your laboratory shaking needs.
With its superior performance and customizable features, this shaker is a valuable addition to any laboratory setting.