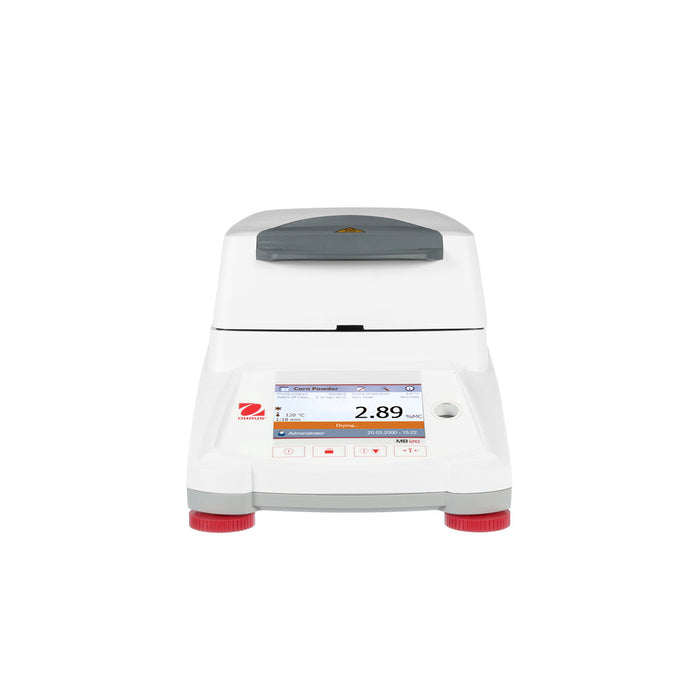 Ohaus, Moisture Analyzers, MB120, 120 g, 1 mg/0.01% - 115V
Original price
$6,310.00
-
Original price
$6,310.00
Introducing the Ohaus Moisture Analyzer MB120, a powerful and reliable tool for precise moisture analysis.
With its advanced features and intuitive design, this analyzer is perfect for laboratories, research facilities, and industrial applications.

The MB120 is equipped with SmartGuide™, a groundbreaking feature that streamlines the setup process. By automatically analyzing samples and creating methods, it eliminates the need for guesswork, allowing you to get started quickly and efficiently.

Featuring a halogen heating system, this analyzer ensures fast and accurate results. The customizable shut-off criteria allow you to tailor the drying process to your specific requirements. With four built-in drying profiles - standard, short, ramp, and step - you have the flexibility to choose the ideal method for your samples.

One of the standout features of the MB120 is its storage capacity. With the ability to store up to 100 methods and 1,000 measurement results, you can easily manage and access your data. Exporting stored results is a breeze, and sharing practices across multiple devices is seamless.

The 4.3" TFT color touchscreen display provides a user-friendly interface for effortless operation. The metal base and ABS top housing ensure durability, while the halogen heat source guarantees consistent and reliable performance. The stainless steel pan support and panhandler add convenience and ease of use.

With seven shut-off criteria options and a wide heating temperature range of 40°C to 230°C in 1°C increments, the MB120 offers versatility for various applications. Whether you need to determine percent moisture, percent moisture regain, percent solid, or weigh objects accurately, this analyzer has covered you.

The Ohaus Moisture Analyzer MB120 is designed to meet the demands of professionals who require precision and efficiency in their moisture analysis tasks. With its exceptional features, it is a must-have tool for anyone needing reliable moisture analysis.
Choose the MB120 today and experience unparalleled performance for your laboratory or industrial applications.