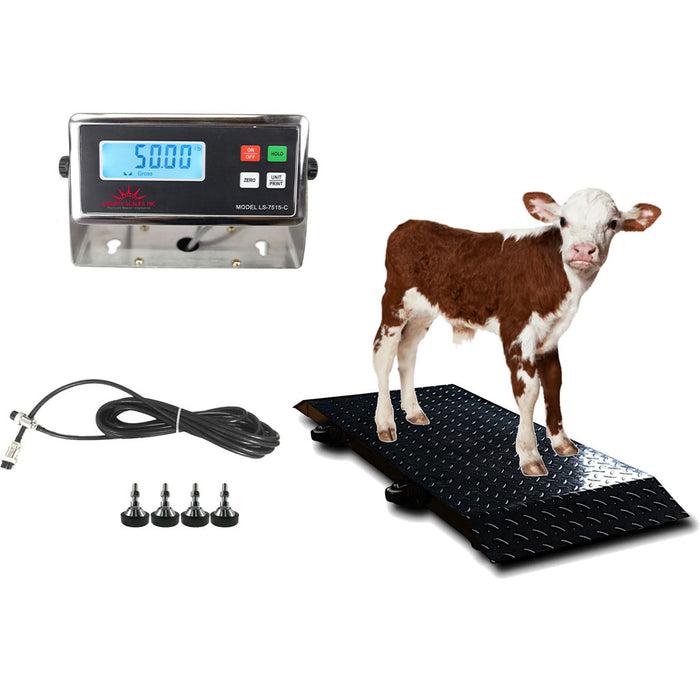 LS-920-2k Industrial portable floor Scale for Small Animal up to 2000 lbs
Original price
$499.00
-
Original price
$999.00
Introducing the Liberty LS-920-2k Industrial portable floor Scale for Small Animals, the ultimate solution for precise and convenient weighing.
Designed with cutting-edge technology and unmatched durability, this scale ensures accurate measurements up to 2000 lbs.

Key Features:

With its portable design, carrying handles, and wheels, transporting this scale is a breeze. Whether you need to weigh animals on the farm or at a veterinary clinic, the Liberty LS-920-2k is your go-to solution.
The rugged thread-plated surface provides excellent traction and prevents animals from slipping during weighing, ensuring their safety.
The ramped ends allow animals to step onto the platform without any hassle. The adjustable feet allow for precise leveling on any surface, ensuring accurate measurements every time.
The 18" long sturdy metal shielded cable provides reliable connectivity between the platform and indicator, allowing you to monitor the weight effortlessly.
The LS-7515-C indicator offers clear visibility and long-lasting performance and has a large LCD and a rechargeable battery. You can easily read the measurements even in low-light conditions.
Additionally, the weatherproof option ensures you can use this scale in any environment without worrying about damage.
Rest assured that this scale is factory calibrated to ensure accurate readings right out of the box.
It also features overload protection to prevent any damage caused by excessive weight. With a 5-year warranty, you can trust in the reliability and longevity of this product.
The Liberty LS-920-2k Industrial portable floor Scale for Small Animals is perfect for agricultural settings, veterinary clinics, or any place where precision weighing is essential.
Shipping Options:
FREE SHIPPING:

 

Enjoy complimentary shipping to business addresses within the contiguous 48 states of the US.
Residential Delivery:

 

For home-based convenience, opt for residential delivery with an additional $100 shipping fee.
Lift Gate Services:

 

Need a forklift? No problem! Access the lift gate service for just $50.
Hawaii & Alaska:

 

Customers in these regions, please reach out for a customized shipping quote.
Don't compromise on accuracy or quality - choose Liberty Scales for all your weighing needs.